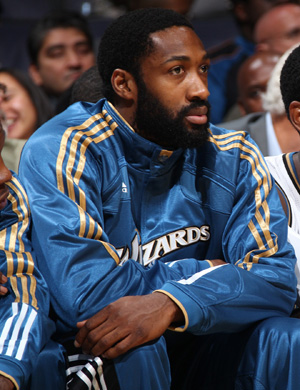 Wizards guard tells reporters he faked an injury to give younger player playing time. Posted by Matt Moore

Part of the collateral damage of
Gilbert Arenas
' complete and total public image meltdown over the past 12 months has been the perception of him as a leader. He went from being the kooky but lovable best-player-on-the-team and presumed captain o' swagger to being an immature attention hog with no respect for his teammates or himself. This year he's shown up a changed man, ditching the smiles, saying he's cutting the beard, and talking constantly about it being
John Wall
's team. He's shown a legitimate commitment to the idea of sacrifice.
Maybe too much.
TruthAboutIt.Net (our winner for Tuesday night's Blog o' the Evening)
reports tonight of some comments from Arenas that may wind up putting him in hot water
. Before the game, Arenas was announced as out with some soreness in his leg. No biggie, happens all the time.
Nick Young
took his place and dropped 24, which is great for the youngster who's struggled through most of his career.
Story over, right?
Except not.
Post-game, Arenas told reporters:
"Yea, I told him I'd sacrifice playing tonight so he'd get some time. Because I know he's kinda frustrated not getting a chance to crank it up at the three position, especially since we're going three guards. So I told him I'd fake an injury or say something's wrong with me. So that's why he said sacrifice."
Wait.
What?
Now, in the video over at TruthAboutIt.Net, Arenas has a smile on his face when he tells this to reporters. Maybe he was kidding. Maybe he was jerking their chain, in order to create posts remarkably like, oh, say, this one. It's not outside the realm of possibility that Gilbert Arenas really was hurt and decided to say this because everyone might flip out about it.
Or, you know, he may have actually lied to his coach, faked an injury, and disrupted the coach's plan for the team all because he thought he was doing something nice for a younger player. Both of these scenarios are completely possible. That's what happens when you're Gilbert Arenas. If Arenas is telling the truth and he did fake an injury, that's not going to sit well with Flip Saunders. As TAI author Kyle Weidie discusses, Saunders actually spoke up in defense of Arenas post-game. To mess with Saunders and his plans for the team in that way would be not only irresponsible, but disruptive. And not at all cool.
This could be nothing, it could be something, and we won't really know until reporters are baited into asking Saunders about it in the morning. By then, Saunders could have talked it out with Arenas and come up with reasonable cover,which could also conveniently be the truth. The truth...ahem, about it... is that there are two possibilities here. Either Arenas is actually pulling stunts like this, which would reflect a blatant disregard for authority, or he's kidding about that, which is only going to lead to questions for Flip Saunders, which shows a gaping lack of maturity.
Welcome to the puzzle that is Gilbert Arenas, still, to this day. Have fun figuring it out.