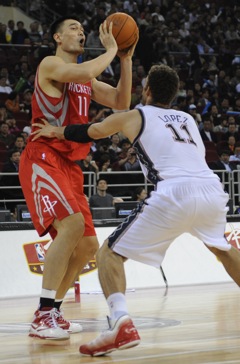 Houston Rockets center Yao Ming shows nicely in an NBA preseason exhibition game against the New Jersey Nets in Beijing, China.
Posted by Ben Golliver.
Pardon my pessimism, but the early reports regarding Houston's plan to impose a strict playing time limit on center Yao Ming, who is returning from a lengthy rehabilitation after undergoing foot surgery, had me spooked. A body that big with a base that potentially fragile is a ticking time bomb, and it's one that comes with any number of psychological hurdles to go along with the physical ones. Watching Yao play well in Houston's 91-81 exhibition win over the New Jersey Nets on Wednesday morning in Beijing, then, came as a pleasant surprise.
Yao's first-half play was solid, noteworthy for the smoothness of his gait and his activity level on both ends. On offense, Yao extended out to the three-point line to set high screens with ease and he extended smoothly to provide help defense as well. As is often the case during preseason, the game was an up-and-down affair with plenty of quick triggers. Yao kept pace with mobile Nets center Brook Lopez, one of the league's best young big men, thanks in part to the relatively short length of his stints in both the first and second quarters.
It was during the first six minutes of the third quarter that Yao really distinguished himself. He drew two quick fouls on Houston defenders, hit a 20 foot face-up jumper, and continued to effortlessly set high screens for point guard Aaron Brooks. He was perhaps even better defensively, playing the passing lanes to grab a steal, starting transition play with two outlet passes and positioning his body effectively to defend and frustrate Lopez on the low block. Although he appeared to tire slightly and didn't commit to rebounding on every possession, his impact was unmistakeable.
Yao's third-quarter run ended with a thud, as he bowled over Nets guard Devin Harris, who cheekily stepped in front of his path in transition, and came crashing to the court. Man down! Cue panic response. But Yao rose quickly and with a wry smile, clearly disagreeing with the player control foul but not letting it spoil his good humor.
Taken together -- his movement, his mood -- it's fair to call Yao's 9 points, 4 rebounds, 1 assist, and 2 steals effort in 18 minutes a baby step back to normal.