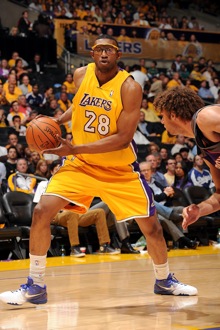 Posted by Royce Young
I'm not entirely sure this is what
Chris Paul
had in mind when he asked the
Hornets
to do some damage in free agency.
According to ESPN.com's Marc Stein,
former two-time champion D.J. Mbenga is in New Orleans today working out for the Hornets. Things are expected to go well and Stein says the two sides are close to a one-year agreement.
Mbenga hasn't been much more than an end-of-the-bench practice player in his six NBA seasons. The most minutes he's played a game in a season was 7.9 in 2008-09 with the
Lakers
.
Reports have had Mbenga close to signing in a number of other places including Portland, Indiana and back with the Lakers among a few others. So I'm not believing this one until I see it.
But here's the thing: The Hornets could definitely use him. Inside, New Orleans has
Emeka Okafor
and
David West
starting. No issues there. But behind them, it's
Aaron Gray
and newly acquired
Jason Smith
. So yeah, maybe Mbenga doesn't seem like such a minor signing now. The Hornets are thin on the inside and while Mbenga isn't going to blow anyone away, he may be close to inking with a team he might actually see minutes for.
Last season, Mbenga appeared in just 49 games and averaged 2.1 points and 1.8 rebounds per game. At 29, he probably doesn't really have a ceiling to reach towards, other than maybe getting legitimate minutes to prove what he can really do. If he does latch on with the Hornets and cracks the rotation - which he should do - then maybe Mbenga can actually make a small impact. I mean, he does have two championship rings you know.