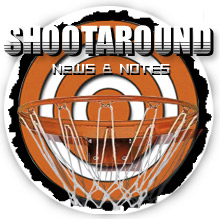 Posted by Royce Young
Last night, Kevin Garnett was ejected because he picked up two technicals. The league's really enforcing the new rules in preseason and Doc Rivers said they've just got to deal with it: "It is what it is. We've got to live with it. It's a new, kinder, gentler me. What can you do? Listen, I do think, as a league, it's about all of us. It's not just the officials, the players or the coaches. It's all of us. We have to keep making this a better product and a lot of people smarter than me have decided this is what we need to do. Then that's what we have to do: Adhere to it. I don't think that's that hard."
Howard Beck of the New York Times on Amar'e Stoudemire's debut: "The introduction was a tad understated, at least by Amar'e Stoudemire's standards. He did not dislodge the rim from the backboard or block a shot into the expensive seats or ruin anyone's self-esteem. There will be many chances for that later, when the games count. Wednesday night was a warm-up, a friendly first date between Stoudemire and his adoring new audience at Madison Square Garden. It was a promising start to the relationship between the desperate fan base and the $100 million star."
Posting and Toasting on Timofey Mozgov's debut: "Mozgov started and started strong. He was, as I mentioned, disruptive on defense, and scaled back the silly fouls (4 fouls in 15 minutes is an improvement. Really!). Save for a weird bout of point-center ambition that didn't end well, Mozgov also got some work done on offense. He buried two big boy midrangers (not like the chip shots he'd been sinking earlier in preseason) and even threw an alley-oop TO Raymond Felton. You read that correctly. Timo stayed steadily stellar in his brief appearance."
Sebastian Pruiti at NBA Playbook looks at Manu diagramming the final moments of the Spurs-Clippers game. "Misdirection plays like this late are so brilliant because teams always seem to focus on the ball late (I personally think this is due to the fact a lot of teams simply run ISOs late instead of trying to draw up some plays), that screens on the weakside usually go unnoticed until it is too late."