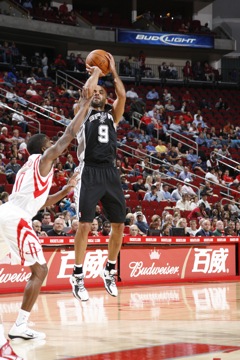 Posted by Royce Young
It's easy to forget all about
Tony Parker
. He was injured for a lot of last season, he's aging a bit and the West is stacked with good point guards.
But the thing is, Parker has multiple rings and at 28, still has a lot of good years left. But in terms of this contract, he's only got one year left before it's up.
But he's not worried about an extension. And he's not in a hurry. "I know they are negotiating, but there is nothing on the table,"
Parker told the french newspaper L'Equipe.
"I'm not in a hurry either. I want to stay in San Antonio, but I do not mind. I just want to make a big season and the contract will come naturally."
There was some talk that Parker could be headed to New York this season or next and if he doesn't land that extension, he'd certainly be available. And Parker knows there's that chance. "Everything is possible, the NBA is a business and, for a team like San Antonio, my wages is substantial," he told the paper. "They decide what they want to do about me."
The
Spurs
could trade Parker this season if they determine they don't want to extend him. Again, there's been chatter about New York, but also people have tossed around Orlando as a potential home for him. But it sounds like the ball is in San Antonio's court. If no extension is to be done for Parker, it would be easy to see him dealt by the trade deadline. But that could be tough because you know the Spurs will be in the middle of the West.
That's where young
George Hill
comes in. He proved in Parker's absence that he could be ready to handle the duties of starting. And San Antonio may see Parker's contract as an opportunity to extend the life of the current Spurs run a bit by bringing in extra talent. If Hill is capable, Parker is somewhat expendable.
Parker says he's 100 percent and has his legs completely back. He's been such a key part of the San Antonio trio over what's almost been 10 years.
Tim Duncan
has an early termination option next season and
Manu Ginobili
is signed through 2013. So time is running out on the Spurs. And that might be why they're taking their time on Parker's extension. Maybe they don't even know what the future holds.