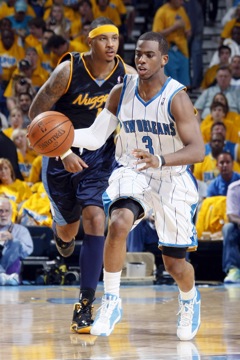 Posted by Royce Young
Remember that one time
Chris Paul
was almost traded? And remember that one time where
Carmelo Anthony
was/is going to be traded? Well it all almost came together in one huge, super-duper mega-deal.
Al Iannazzone of The Bergen Record reveals a trade
that was in the discussion phase that would've shaken the NBA tree around a good bit. How's this sound: The Blazers tried to include the
Hornets
in a deal that would've sent Chris Paul to Portland,
Devin Harris
,
Kris Humphries
and a couple Blazers to the Hornets,
Derrick Favors
to Denver and
Andre Miller
to the
Nets
.
And a wipe of the forehead. Now that, would've been a
trade.
Iannazzone mentions that the trade really wasn't ever that close, but boy, that's one to talk about. And it's easy to see why it didn't really go anywhere. The two teams giving up their stars weren't really being compensated, well, at all. Harris is a nice guard, but Humphries and some Blazer scrubs? Unless the unnamed Blazers were
Nicolas Batum
,
Greg Oden
and
Brandon Roy
, I don't see how New Orleans feels good about that trade. And all Denver would've received was Favors? I'm sure picks were involved in there too, but still.
The Nets though, my goodness. Not only do they land Carmelo, but Andre Miller. Quite a haul. And if Portland isn't giving up anything that substantial, putting Chris Paul in Andre Miller's spot means the Blazers are like actual contenders or something.
Again, easy to see why this never picked up a ton of steam though.
Underneath all that in Iannazzone's story though is the fact that New Jersey is still pushing hard for Anthony, but isn't going to be able to get much done as long as Favors isn't producing. The rookie power forward went 0-for-5 and had zero points and five rebounds in 23 minutes in Wednesday's 91-81 preseason loss to Houston. That made three bad outings for Favors in four preseason games, two of which were watched in person by a
Nuggets
scout.
Right now, Denver has the leverage and Favors was supposed to be the prize for them in dealing Anthony to New Jersey. But if he doesn't look like a capable starting NBA power forward, it'll be back to the drawing table for the Nets. The Nuggets are still in a position where they can track down the best deal. Until Denver starts feeling some pressure from the Carmelo camp, the Nuggets can take their time.