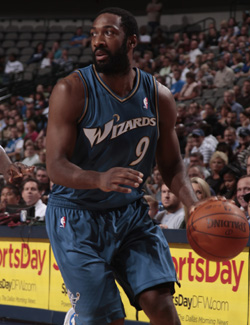 One game after faking an injury, Washington Wizards guard Gilbert Arenas suffers a right groin strain.
Posted by Ben Golliver.
Be careful what you wish for, Gilbert Arenas.
Yesterday, Washington Wizards guard Gilbert Arenas set the internet ablaze when he was
fined for admitting that he faked an injury
so that teammate
Nick Young
could get some more burn during Tuesday's win over the Atlanta
Hawks
. Shortly after checking into tonight's game against the Milwaukee
Bucks
, Arenas suffered what the NBA TV announcing crew called a "mild right groin strain." Arenas could be seen holding his right leg on the sideline and receiving medical attention from the Wizards staff. According to the NBA TV crew, Arenas is not expected to return to game action tonight. Arenas did not start for the Wizards, and first checked into the game at the 7:06 mark of the first quarter, replacing Young. On the bright side, no one really cares because Wizards rookie
John Wall
is quite good at basketball.