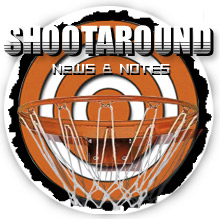 Dwight Howard thinks the new rule has its place, Monta Ellis' wife is keeping him in the right place, Andre Blatche needs a new place, and Al Jefferson is getting into a good place, all in today's Shootaround.
Posted by Matt Moore

So while the Union's suing and the
Celtics
are freaking out, Dwight Howard
has come out and said
that in regards to the new tech rules, "They want us to cut down on talking to the refs, as hard as that may be. We've adjusted to everything else that's put out there. So we'll adjust." That's right. The guy that watches cartoons, does funny voices, and is pretty much known as a big kid, he's the one who's being grown up about this. The world's gone mad. Dwight Howard is in a place where he can have perspective and
Kevin Garnett
is not. What is happening?
Marvel Comics is teaming up with ESPN and the NBA
for a series of promotional spots
. Does it bother anyone else how much the league is marketing towards the storyline of LeBron leaving Cleveland? Don't get me wrong, I've been softer on James than others because if you asked me if I wanted to go work somewhere nicer with two of my friends with a greater chance of success, I'd probably do it too. But rubbing Cleveland's nose in it constantly for marketing purposes and playing into their spurned response seems exploitive.
Monta Ellis
is in a much better place emotionally
and mentally. Why? Dude got married and his wife, a lady cop, has him in line. I can understand where Ellis is coming from, as I'm sure a lot of men can. You have your wilder 20's, jacking up shots and riding mopeds, and then you get married and that stuff gets thrown out. This would be better if she were a segway cop or something. Still, it's good to see Ellis in a better place.
Mike Wells of the
Indy Star
reports that both
Dahntay Jones
and
Solomon Jones
are on the block
as the
Pacers
try and move for a big man.
TruthAboutIt.Net's Kyle Weidie
is more concerned
with Andre Blatche at the moment than
Gilbert Arenas
. Blatche boosted his stock immensely last year with some solid play on the blown-up
Wizards
. But he thinks of himself as a primary scoring threat, not as a complimentary piece, and has big chemistry issues. If they can get him on the market and get a good player to put next to Wall for him, they should move, and quickly.
Alvin Gentry is telling his team that if they want to be succesful this year,
they're going to have to be a "GREAT" defensive team
. This for a team that had
a worse defensive rating
than any of Mike D'Antoni's years. Even if you think Amar'e was the problem (and he wasn't), good luck with that, coach.
Sasha Vujacic
suffered a concussion in practice
and is out indefinitely. Perhaps he was confused on what being "unconscious" from the arc meant.
In
case you missed it last night
, you need to see
John Wall
destroying the
Bucks
in 40 secons. For real.
Mike D'Antoni called
Anthony Randolph
a "
stat magnet.
" If only that magnet wasn't similarly charged to that of a "high basketball IQ magnet" because Randolph seems to repel that idea. Many,
Knicks
fans especailly, hope this is the season that changes. He can be an absolute game-changer when his head's in the right place.
And finally, just a small basketball note. If you caught last night's
Jazz
game you saw this, but if you didn't, Al Jefferson looked really good. Even with an out-of-shape
Deron Williams
working with him, Jefferson was hitting from all over the floor and attacking the glass on both sides of the ball. Defensively he's still figuring the system out, but things are looking tremendously good for Utah's new acquisition.