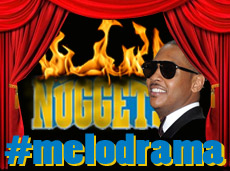 Melo still looking for trade, but not to Clippers, because they are the Clippers.
Posted by Matt Moore
Hidden beneath the glossy veneer of
Carmelo Anthony
's
30-point, 14 rebound performance
last night is the fact that the situation regarding Carmelo's trade request still looms over the team. And recent reports suggest the problem is getting worse, not better, despite Melo dropping bombs on the floor.
The
Denver Post today reports of a source confirming
much of
what KB let us in on last week
: Melo still wants out, still wants the
Knicks
(which isn't happening), won't take a trade to the Sixers, and the
Bulls
deal won't be happening if the Bulls won't give up
Joakim Noah
(which they won't).
The interesting takeaway from the
Post
is that Melo won't agree to a trade to the Clippers.
Just to put this in perspective, the superstar who is specifically looking for a trade to a major market to expand his brand refuses to be traded to the NBA's second biggest market, to play alongside
Blake Griffin
,
Eric Gordon
, and
Baron Davis
. There are a lot of reasons, but the biggest rhymes with Stonald Derling.
So while the Clippers are off the table along with the Sixers,
Kings
, Wolves, and pretty much every other small market team, the
Nets
keep hanging around, dangling
Derrick Favors
in all his glorious "might take five years to drag something productive out of him" glory. For whatever reason, the
Post's
source thinks the
Nuggets
want Favors. Seems kind of risky to hinge trading your superstar on that kid, but hey. He's supposed
to be the next
Tim Duncan
, or whatever.
Meanwhile, the situation continues to drag on, as Denver tries to figure out what it wants that Melo will agree to. Melo's still dropping huge numbers, so there's not much pressure on them. The question is just who will cave first to the other's requirements.