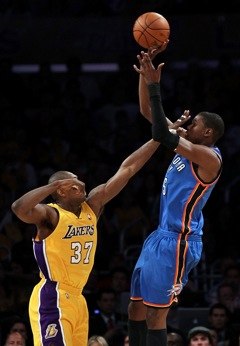 Posted by Royce Young
Don't ask
Ron Artest
to count to five. Or even three. Because he can't. Well, at least he can't when he's naming the best players in the NBA and he may or may not be trying to slight
LeBron James
on purpose.
Since Artest is known as one of the league's most talented bulldog defenders, he's a good source to go to in terms of finding out who the best players in the game are. Whoever he has the most trouble defending, that means they're probably pretty good.

So Dave McMenamin of ESPN Los Angeles
asked Artest what he thought the biggest offseason signing was and Artest didn't go where you thought he would. He picked
Kevin Durant
signing an extension with Oklahoma City, as opposed to the taker of talents to South Beach. As to why? "He's the second best player in the NBA," Artest said.
Well do elaborate, Ron.
"Kobe's got five rings, six game winners [last season], 23-straight points in [Game 5 of the Finals] off mostly jump shots," Artest said. "[He's] the biggest shot maker, big shot maker. So, that said, Durant's the second best player in the NBA."
What you did there, I see it. Durant's two, because Kobe's one. Of course that begged the question: Where's LeBron?
"I only count to two," Artest said. "I've been out of school 15 years, so I only count to two."
Only Artest. Somehow, despite some pretty horrible moments for him over the years, his transformation from bad guy into an endearing player is almost complete. But the story here is the subtle smack talk Artest just gave LeBron and the
Heat
. The two teams will meet Christmas Day and Artest will be guarding LeBron. I'm sure LeBron took mental notes on Artest's statement so you can be sure James will play like he has something to prove.
And that might be Artest's point. He's trying to get into LeBron's head early and talk him into playing one-on-one instead of playing his game. It's a very Phil Jackson-ish move. I guess Artest has been reading Jackson's books after all. He can't count, but I guess he can still read.