Posted by Royce Young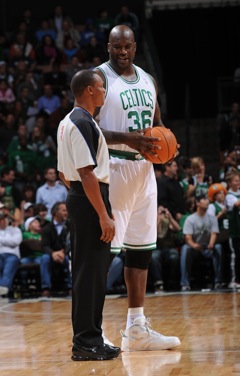 Not a ton of people are loving the new technical foul rules that enforce a quicker whistle. In fact, some may even feel it's "stupid." One such large player (in more ways than one) also doesn't love the new quick whistle and of course, this player isn't shy.
Shaquille O'Neal
talked to reporters today and
shared his feelings on the new stricter rule:
"I just think that if you give those guys that much control you might as well start selling their jerseys at Footlocker. This is an emotional game. I know when I pay the money to different arenas and I take my sons and my daughters, I want to see everything. I want to see them talking smack, I want to see it all. You can't try to just cut off an emotional game — expect people not to have emotion.


"[I'll] say that you can probably cut out the secondary and the third emotion, but if you hit me with this mic right here, like this, I'm gonna at least go, 'Whoa, what you doing?' I can't just let you hit me with the mic and just keep talking, 'Yeah, everything's good, I love Toronto,' you know what I'm saying? I've got to at least have that, 'What are you doing?' I think they [should] give us room to respectfully react once, sometimes maybe twice. Matter of fact, just keep it like the way it was."

"The other night, I don't think KG did anything to get tossed out. Like I said, [you're] going to give them that much control you might as well start selling their jerseys. Might as well make them stars."

Fine coming in 3, 2, 1...
There's definitely two sides to this issue. One says, "Come on. You can control what you do. I understand an emotional outburst but it makes no sense to keep talking and complaining. Just walk away!" The other says, "Basketball is an emotional game and players get caught up in it. Part of the game is working officials and it's impossible for them to stay consistent with these calls."
Me personally, I don't mind smack talking, but watching a player whine after every call gets really old and annoying (I'm looking at you , Tim Duncan Face.) I think the NBA realizes how it makes the game look like a whiner sport. The way the rule is laid out, it says you can react, but don't carry on. Doesn't that seem fair? Players have the opportunity to let out the uncontrolled outburst, but they just need to zip it and get over it shortly thereafter.
More than likely, the NBA will cave and relax the rules. They've tried this kind of enforcement before, but it didn't hold up. They've got to stick to it if they want it to work. And I hope they didn't just use preseason to really emphasize it only to back off in the regular season. Give this half a season and players will start shaping up. Let a guy pick up a big technical late in a game and maybe he'll think twice about badgering an official for an extended time.
I do kind of like Shaq's line about selling the referree's jerseys. It's pretty annoying when an official inserts himself into a game and tries to prove a point. I agree there. And I guess that's what the heart of this debate is.
But I don't know Shaq, I can't really say I'd be in the market for a Bill Kennedy replica jersey. Not my thing, I guess.