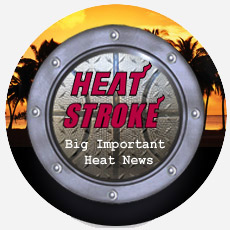 Miami Heat guard Eddie House is not overly concerned with your opinion. Posted by Ben Golliver.
Back on July 29, roly-poly rifleman Eddie House left the New York Knicks (after a midseason trade from the Boston Celtics) in his rear view to sign on as a free agent hired gun for the Miami Heat. The brash, plump guard made the biggest no-brainer in the history of Earth, joining a stacked roster that already included LeBron James, Dwyane Wade and Chris Bosh and is poised to compete for an NBA title for the next 173 seasons.
House's role with the Heat isn't complicated: he will be expected to space the floor, knock down the open shot, provide some change-of-pace hustle and, apparently, go on Tony Montana style rants to keep things interesting and to ratchet up a "Heat against the world" mentality.
Ethan J. Skolnick of the Palm Beach Post says good night to Miami's new bad guy.
"I think, you know what, honestly, I don't give a (expletive) about nobody else on the outside," House said. "It doesn't matter about anybody out there. I don't care what their expectations are. We have our expectations and our goals. We are going to achieve them. That's the bottom line."

"So, at the end of the day, middle fingers to all the haters," House said.
In the big screen rendition of this scene, I think Heat forward
Juwan Howard
could
fill in nicely as Chico
, the quiet, mature, mustachioed bodyguard who keeps Eddie House from breaking any laws or turning over too many dining room tables.