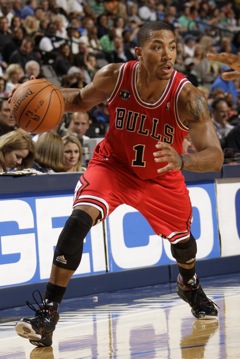 Posted by Royce Young
When the GMs voted in their annual survey, most were a little shocked that one player wasn't on top.
LeBron James
, the two-time reigning MVP, only got a fraction of the vote.
Kevin Durant
led the way with
Kobe Bryant
, James and then
Dwight Howard
trailing behind.
But one player that feels a little slighted to not be mentioned is
Derrick Rose
.
As he told Tim Povtak of FanHouse,
"Why can't I be MVP of the league?"
It's a good question, really. Why can't Rose win the award? His
Bulls
are lined up to have a successful season, he's entering his third year and has been extremely good in his first two years and by all accounts, he's better than before. He's going to be the Bulls focus and he'll have plenty of attention of on him all year. It kind of adds up.
But at the same time, Rose hasn't even begun to touch what he's capable of. Watching him in the open floor is almost a revelation. He's not just fast, he's smooth fast. No player moves the way he does. It just looks
good.
Rose is flashy, but he has substance. When he's got the jumper going and he's creating aggressively, look out. Problem is, it doesn't always happen. But that's something that shouldn't surprise anyone from a guy that's played two seasons and is 21 years old.
(Quick timeout: How beautiful is that little jump-stop runner Rose has developed? I'm talking about the one where he dribbles down the floor acting like he's looking for someone to pass to, heads to the right side of the lane, plants quickly and in a blink, shotputs the ball at the rim. It's gorgeous. And pretty much unstoppable.)
Rose's biggest challenge is translating his quiet demeanor into strong vocal leadership on the court. But that comes with comfort. He's gaining in confidence. For example, this MVP comment. I don't think Rose would have said something like this two years ago. Not because he didn't believe it, but because he wasn't as sure of himself. He wasn't exactly sure how to express himself. And now he's getting there. Which is all part of the process.
In his first two years though, Rose was teamed with somewhat of a lackluster roster. He had
Ben Gordon
on his wing his rookie year and he's had
Joakim Noah
inside. He's had the often injured
Luol Deng
on the wing, but really at no point did Rose have a go-to scorer to rely on. He's kind of been forced to be the go-to scorer but always creative and distribute. Now, with
Carlos Boozer
on the interior and a couple weapons to kick to on the outside, Rose might be capable of scratching his statistical ceiling.
Could a 20-10 season be in the cards for Rose? Probably not, but with some of the defensive focus pulled off him, he could potentially score in the upper 20s while also handing out six, seven or eight assists a game. For instance, look at the damage Rose did last April against the
Cavaliers
in the playoffs: 26.4 ppg, 7.2 apg, 3.2 rpg, plus excellent percentages. That type of year is certainly something Rose has in him. Maybe not now, but eventually for sure.
And if the Bulls are in contention, is that enough to at least put Rose in the MVP discussion? I'd think so. Hard to ignore numbers like that.