Posted by Royce Young
Reebok released pictures of
John Wall
's new signature shoe the ZigTech Slash Limited Edition Gold Colorway and well, let's just say the reaction has been mixed. Mixed as in most people think they are hideous.
Have a look: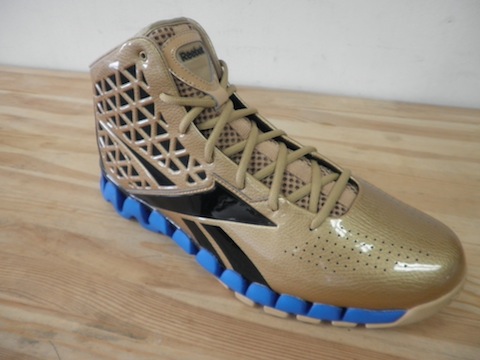 Wall signed a reported $25 million deal with Reebok this summer to be one of their top endorsers. So his signature shoe is definitely one of the prized releases by the company.
But as savvy NBA business-head Nate Jones said,
the key to a signature shoe is both style and substance. It's got to be a shoe somebody doesn't just want to run a couple of pick-up games on, but also a pair of kicks that you can wear with some jeans and a t-shirt. I don't know if Wall's ZigTech Slashes are something you want to be seen in off the blacktop.
Reebok has a pretty good history with good shoes too. For instance, Allen Iverson's
"The Question" model
is one of the most famous pair of sneakers ever. They were simple and cool. And now, we have this. Quite a difference.
Now obviously this isn't the only shoe Wall has. It's just the gold colorway. But still, the whole design isn't wonderful. I'm no Russ Bengtson or Lang Whitaker, but still, I can tell a shoe that isn't something the masses will love. Paired with the
Wizards
blue and gold uniforms? Yeah, they'll look good. On you going to a movie with friends? Not so much.
But at the same time, if you want to pay me $25 million to wear these shoes, I'll totally do it Reebok. Just letting you know.
Via Dime