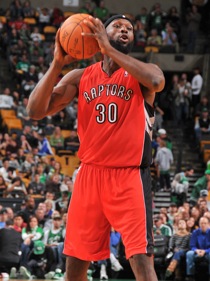 Toronto Raptors forward Reggie Evans has strong opinions on gender issues. Posted by Ben Golliver.
Beneath Toronto Raptors power forward Reggie Evans's burly and bearded exterior hides an enlightened scholar on gender issues. Asked how the Raptors are coping now that former teammate and all star
Chris Bosh
left to team up with
LeBron James
and
Dwyane Wade
in Miami, Evans
told Holly MacKenzie of The Score
that he does not dwell on the past because moping is not part of the male existence.
"Only girls sit around and mope. I'm speaking from a man's perspective. Like if they come on the floor be moping and stuff, that's what girls do. I'd look at them like a girl, doing what girls do, sitting around moping because of what happened yesterday, or last week that happened. Like my two girls, I have two girls, when I told them no, what they do? Put their heads down and mope. You know what I'm saying."
It is believed Evans acquired such a detailed understanding of the male and female mentalities through decades of careful observation and the occasional surgical procedure,
like this famous one he performed
on Los Angeles
Clippers
center
Chris Kaman
. All jokes aside, Evans's attitude is on point, if a bit crude in delivery. The Raptors are clearly searching for a new identity in Bosh's absence and a forward-thinking approach, rather than the
bitterness and pettiness
spewed by GM Bryan Colangelo this fall, is the right way to go.