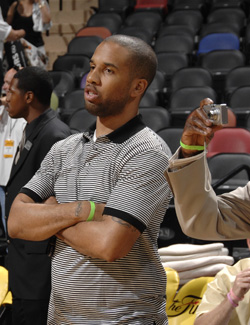 Maverick Carter, manager for Miami Heat star LeBron James, has reportedly been charged with physically and psychologically damaging a teenage woman in a dispute over a pendant. Posted by Ben Golliver.
File this one under: Are you serious? It's one disaster after another for Maverick Carter, LeBron James's manager and
founder of LRMR
. First there was "The Decision". Then, there were his
allegations of media mistreatment
of James because of his race. And now, according to
legal documents obtained by TMZ.com
, Carter has been slapped with a lawsuit surrounding a dispute over a $10,000 pendant that he claims was stolen from him.
TMZ has obtained a lawsuit filed by VaNeisha Robinson -- in which she claims Maverick Carter and his mom staged a 9-man ambush to jack a $10,000 pendant she claims she bought at a garage sale for $5 back in 2005 thinking it was costume jewelry. Turns out, it was real. Carter maintains the pendant was stolen from him roughly 3 years ago ... and he had no idea where it went until he saw that Robinson was trying to sell it on eBay.
So, while James is busy stacking so much cake and influence he recently made
Forbes's "40 under 40" list
, Carter is (allegedly) licking the crumbs off the linoleum. Let me lay out a simple commandment for all of the aspiring managers of aspiring billionaires out there: No chain is worth a lawsuit. Ever. Because we're talking about Carter and his questionable decision-making, I'm obligated to cite one of the funniest paragraphs ever written in the English language. This from ESPN's Arash Markazi, who tagged along with Carter and James during a three-day long party in Las Vegas this summer for
a story
that was
eventually spiked
.
Carter, LeBron's childhood friend and manager, begins dancing around James like Puff Daddy in a Notorious B.I.G video. A giant red crown-shaped cake is brought over to James while go-go dancers dressed in skimpy red and black outfits raise four lettered placards that spell out, "KING." Carter grabs a bottle of Grey Goose and pours a quarter of it on the floor and raises it up before passing it off.
For the record, TMZ reports that Carter is "denying all allegations" in the pendant case and it's unlikely the bling lawsuit will amount to much. But the greater point here is that someone charged with building and protecting James's brand finds himself working counter to those goals once again. I cut people out of my entourage for not tagging blog posts properly, so what is Lebron James's hold up? It's time to get professional representation. Finally, this case should serve as a good cautionary tale for all you online shoppers out there. There's nothing but creeps on eBay and Craigslist. Never, ever meet them in public ... especially if they promise LeBron James will be there.