Posted by Royce Young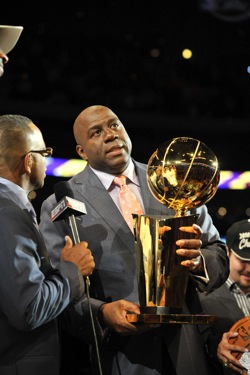 A day after Laker legend
Magic
Johnson sold his 4.5 percent share in the Los Angeles
Lakers
, he has also sold his 105 Starbucks franchises he owns back to the company he purchased them from for over $100 million,
the Los Angeles Times reports.
Adding today's sale with yesterday's, Magic has quickly put upwards of $160 million in his pocket quickly. So the question is, what is he up to?
A source tells the L.A. Times
that he's not necessarily interested in purchasing an NBA franchise as is widely rumored. But the source told the paper he's interesting in something "in sports."
At different points, Johnson was linked to potentially buying the Detroit
Pistons
and Golden State
Warriors
, though those rumors have been refuted a bit. And if he's not interested in buying, could he be having financial issues? The source says that's not the case but in these two cases, they were just good "business decisions." As mentioned earlier, Magic reportedly got a
Godfather offer from Dr. Patrick Soon-Shiong that he couldn't refuse.
While obviously most feel that Magic is looking into potentially purchasing an NBA franchise much like his buddy Michael Jordan, some feel Johnson could actually be interested in the Los Angeles Dodgers. And that throws a curveball into the whole thing (that was lame, I apologize).
But
if
Johnson decided to make a play in the NBA, here's the top five franchises I hope he buys.
1. Los Angeles Clippers
- I don't know if he would, but this seems like it makes a lot of sense. At the same time, it doesn't make any. Johnson is forever a Laker and for him to purchase the in-town rival seems a little weird. But Donald Sterling's time is up and Johnson could be the perfect guy to step into that franchise. Plus, Johnson stays in L.A., stays in the Staples Center and stays in the bright lights. I'm rooting for this.
2. New Orleans Hornets
- The sale of the Hornets is stalled and maybe this is an opportunity for Johnson to swoop in and reinvigorate the franchise. And something seems right about Magic Johnson being
Chris Paul
's boss.
3. Indiana Pacers
- Granted, the Pacers aren't really for sale, but they are in a bit of danger of leaving Indianapolis. The city approved a new bill to tie the Pacers to the downtown arena, but still things are great in Indy for the Pacers. Forget all that stuff though, I'm just thinking about uniting Magic and Larry Bird together in the front office. I think that would be cool.
4. Phoenix Suns
- Robert Sarver is known as a pretty tight, greedy owner in which his team has won in spite of. He's long been rumored to potentially be parting with the team at some point and having Johnson take over would work. The Suns are a fun West Coast franchise that should always be a staple in the Western Conference. Maybe Magic could give them a bump.
5. Memphis Grizzlies
- I think most agree it's kind of Michael Heisley's time to go.
Especially after his disastrous interview
in which he revealed he really didn't know what he was doing.
Again, Johnson isn't necessarily buying, but I'm here to speculate so that's what I did. He's selling stuff off for some reason and it makes sense for him to get in the NBA ownership game. And as well-spoken and business-minded he is, I can't help but think he'd be as excellent at it as he was at basketball.