Posted by Royce Young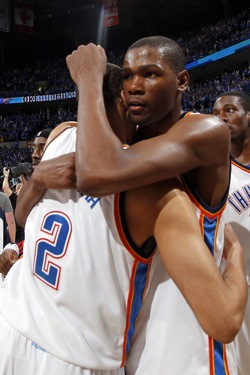 Chris Tomasson of FanHouse passed along why Kevin Durant posed on the cover of Sports Illustrated's preview issue with unlikely candidates Thabo Sefolosha and Nenad Krstic.
Basically, Durant requested that Thabo and Nenad be on the cover with him because "they don't get a lot of pub." Durant even indicated that he wouldn't have posed for the cover if those two guys weren't included with him.
This guy Durant. What more can you say? I mean, sheesh.
My theory was that the team pushed for the lower profile players to join Durant. I should've known it was KD. While the organization pushes the team concept hard, it all starts with its star. Durant has been as much a part of developing the culture and philosophy within the Thunder organization as anyone. He understands what it takes to be a teammate. In his mind, he's not the star of the Thunder. He's just a leader.
Durant has a point too. Sefolosha is one of the league's most underrated defenders (second-team All-Defense last season) and a terrific role player. Sefolosha is the backbone of one of the league's finest defensive units. Krstic is a player that isn't necessarily a terrific talent, but he fits in with the Thunder well as a pick-and-pop center and has no qualms quietly sitting back and being a fourth or fifth option. And KD appreciates that.
I kind of recall Durant doing a similar thing when he was at Texas with teammates and a magazine cover. He didn't want to be singled out. It's just who he is. Some guys can preach team and togetherness, but Durant lives it. He talks the talk and definitely walks the walk.
And at no point during this Summer of Durant where he's won the media over with a simple tweet and brilliant performance at the World Championships have we reached an oversaturation point. I think a lot of that is because he's not the one pushing for the spotlight. I'm not saying Tim Tebow did, but people grew sick of him because he completely embraced his attention. He bathed in the spotlight. And for good reasons too. He had a message he wanted to get across and the national attention just helped him do it. But it made us all want to throw up when we heard his name.
Durant has no motive with his humble decisions. He's not trying to win fans with them. He may be trying to be a role model, but that's not his priority. He's doing what he thinks is the right thing. He's just being a good teammate. It's something he lives by and in the Kevin Durant world, the best PR doesn't come from handlers or publicists. It just comes from KD naturally being KD.