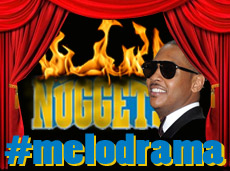 Melo talks swinging towards New York, away from New Jersey.
Posted by Matt Moore
So the season starts in a week, and Melo is still a Nugget. Will he stay there?

After our own Ken Berger reported last week that the Nuggets remain intent on moving him, there's word picking up that the Knicks may be getting back into the talks. Chris Sheridan reports that the Knicks are trying to work out a deal to move either Danilo Gallinari or Anthony Randolph to acquire a player that the Nuggets have more of an interest in. It's a curious report, in that you'd think that either A. Denver would be satisfied with a young forward with either shooting prowess or considerable athleticism, or if they did want one of those moved for an asset, it would be a draft pick they'd be shopping for.

New York's pick this season was held by Utah due to the last of Isiah Thomas' genius maneuvers. In trying to clear space to bring in one of the Big 3 free agents, the Knicks obtained Tracy McGrady's expring contract from Houston. In return, they had to agree to a pick swap this year and to give Houston its 2012 pick as well. Teams are restricted from trading consecutive first rounders.

If the Nuggets move Anthony, they'll be in a rebuilding mode. And while acquiring good players is good for the ticket sales, it's draft picks and movable assets that will help them get back into contention through a rebuilding process.

It's still hard to see a scenario in which the Knicks can get back into this thing, unless the Nuggets are beginning to relent to Melo's pressure to move him, and move him where he wants.

There are numerous reports that the Derrick Favors angle that would send Anthony to New Jersey is dead, based off of both the Nuggets and Nets backing off. Favors looked good in the second half against New York last night, after a dreadful preseason, so both sides have reasons to walk away from the deal.

After seeing the Knicks in preseason, it would actually be kind of unfortunate to see Anthony wind up in New York at the cost of their young nucleus. Randolph and Gallinari provide a nice balance to each other's games, Stoudemire looks every bit the superstar they signed him to be, and Timofey Mozgov looks like a promising center prospect. Even Raymond Felton looked like the guard they need him to be for the first time last night. Adding Melo would give them a second superstar and a major scoring threat, but would also damage their flexibility and versatility, things which are important in Mike D'Antoni's system.

We'll have to see if the Knicks feel they have to strike while the iron is hot or not.