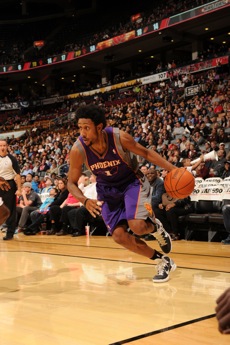 Posted by Royce Young
Well to be clear, broken finger
tip
.
The
Suns
new guy
Josh Childress
fractured the fingertip on the index finger of his right hand (his shooting hand) during Phoenix's Tuesday exhibitio against the
Warriors
,
according to the team.
He will sit out a week, missing Phoenix's last two preseason games. He will then be re-evaluated before the season opener Oct. 27 against Memphis. It's actually still a question whether or not he'll be ready by the start of the season.
There's potential he could be held out at least a week of the regular season but that really won't be set until he's re-evaluated.
The injury happened on a contested dunk midway through the fourth quarter of the game. Apparently, he clipped his finger pretty good on the rim. And broke his fingertip. Ouch.
Childress came out, but then returned to the game a couple minutes later and played the last five minutes. He missed the rest of the shots he took because, you know, he broke the fingertip on his shooting hand.
So far this preseason Childress has been pretty solid for Phoenix off the bench, scoring eight points a game and shooting 57 percent.