Los Angeles Lakers legend Magic Johnson tells the Los Angeles Times that he will investigate the options for owning a professional sports team. Posted by Ben Golliver.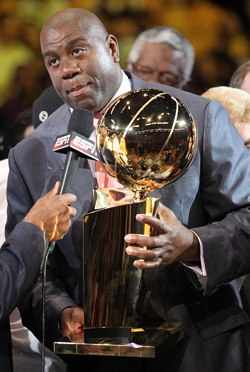 It's been a busy week for Los Angeles Lakers legend and NBA Hall of Famer Magic Johnson. First, he sold his
4.5% ownership stake in the Lakers
on Monday. Then, on Tuesday, Johnson announced he was
liquidating his Starbucks ownership assets
, worth more than $100 million. Tonight comes
word from Broderick Turner of the Los Angeles Times
that Johnson will continue to serve in his role as Vice President of the Lakers but that he is interested in becoming a majority owner of a professional sports team but that several rumored deals have not developed or progressed.
Johnson said Wednesday he will "look at every opportunity" in the future to become a majority owner of a sports team, but that he hasn't joined forces with anybody yet. However, Johnson said he wants to play a role in bringing the NFL back to Los Angeles. "I talked with Golden State. I will talk with [Ilitch about] Detroit," Johnson said. "Just because you talk, that doesn't mean you are going to do a deal. But I'll be looking at every opportunity because I'm a businessman and that's what I do. I look at deals every day."
Turner notes that Johnson says he hasn't yet had any discussions regarding bringing a National Football League team back to Los Angeles, but that he "really, really wants" the NFL to return to the city. Johnson also is quoted as saying that he would welcome discussions regarding the NFL "in two seconds." It has been 15 years since the NFL had a franchise in Los Angeles. The NFL's Rams franchise
left Los Angeles for St. Louis in 1995
. The NFL's Raiders franchise
left Los Angeles for Oakland in 1995
.