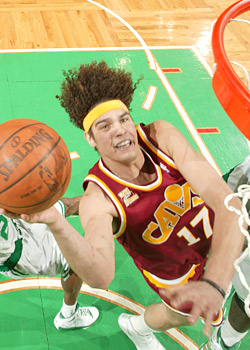 Floppy-haired Cavs forward on list of players Denver covets... for some reason.
Posted by Matt Moore
When
KB dropped the verse
Wedneday night that the
Nuggets
have a list of veteran bigs they want in return for any deal involving
Carmelo Anthony
, there were the usual suspects.
Joakim Noah
: Top flight center. Charming possibility of a beehive. Great rebounder. Young, talented, and tenacious. Makes sense.
Andrei Kirilenko
: Super-attractive wife. Excellent versatile skill set. Able to play multiple positions. Valuable contract. Makes sense.
Andre Iguodala:
The superstar role-player. Able to play the 2, 3, or 4. Great rebounder, passer, and auxiliary scorer. Easy to get under his skin by calling him easy nickname of "Iggy." Slaps rookies in the face with powder. Makes sense.
Gerald Wallace
: Plays so hard every night, every play that he has given himself a concussion and collapsed a lung. Terrific all-around athlete that can do nearly anything you ask of him. Sweet headband. Makes sense.
Anderson Varejao:
Wait, what?
Don't get me wrong. i'm not ignorant in the ways of defensive plus-minus, nor am I oblivious to the stout mechanics of Flopsy's defensive prowess. And hey, if you need a clean-up score, Varejao is your guy. Stick that guy next to 2005-era
Tim Duncan
and watch the offensive putbacks roll in. Coast to coast like butter and toast.
But Varejao is far from a complete player, and we've yet to see him outside of being the rather fourth-option level sidekick to the MVP. We're kind of lacking a good sample set on how he'd do where his, say, the second or third offensive option. Varejao's jumper improved last season (jumped to a
50% shooter from less than 10 feet
from 35%). But he's still got no range, lacks a true post-set and is, in general, Anderson Varejao.
What's more confusing is that Anderson signed a new deal in the summer of 2009,
with roughly $33 million guaranteed
. That's a big, long term, expensive contract entering into a new CBA for a team that would be for all intents and purposes blowing it up and starting over. If you look at what the Nuggets should do in such a move, Varejao is pretty much the polar opposite of that idea. Even if, in the only plausible scenario that involves Cleveland in a deal, there is a third team acquiring Anthony who would send some fictional young superstar to Denver, you'd still be left with a significant financial restriction.
For the Cavs? Giddy up. If the Cavs do somehow manage to talk Masai Ujiri into taking Varejao's contract, their rebuilding project would be even further along than they thought. Moving
Mo Williams
and
Antawn Jamison
then becomes much easier in terms of accepting a quarter-on-the-dollar type deal. The assets they would then acquire, in combination with cap space, a dreadful team guaranteed for the lottery, the
Heat
's high 20's pick to use in combination with remaining assets on draft day, and the massive trade exception they received from the great James robbery, would put them in line for a massive transformation in only a few precious months versus a long-term project that may take years to complete.
New York tried everything it could to ruin Cleveland by taking James away this past summer, only to watch Miami do the dirty work and leave them outside the party. Ironically, it could wind up being Cleveland that helps them get the next best available thing. The only question is how long that will take.
For now,
as KB writes
, we'll have to wait and see.