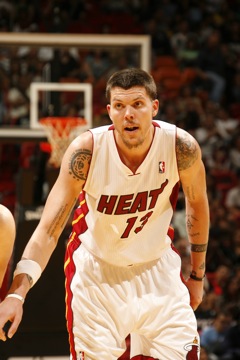 Posted by Royce Young
Ira Winderman of the Sun Sentinel reports
that
Heat
guard
Mike Miller
- who sustained an ankle sprain earlier this week - is out with a "potentially serious" thumb injury he suffered Wednesday.
Miller picked up the injury at practice and it's on his right hand which if you're in the Mike Miller Fan Club, you know that's his shooting hand.
Obviously there aren't a ton of details and it's up to your own wild imagination as to what "potentially serious" means, but if this is something that causes Miller to miss a number of games or affects his play, that's a major blow to the Heat.
Other than the Big 3, Miller (along with veteran
Udonis Haslem
) were supposed to kind of anchor the Heat's unit of role players. Miller is a marksman from outside and someone the Heat could rely on to stretch a defense when things are clogged. He's an ideal player for
Dwyane Wade
and
LeBron James
to kick to.
The Heat do have other options if Miller's out for an extended period of time though.
James Jones
and
Eddie House
both play a similar role as Miller, but just not to the quality.
But what we're already seeing is that this dream team isn't invincible. They aren't immune to injuries. We haven't even seen a real game yet and already LeBron, Wade, Miller and House have all had to work around injuries. And with Miller's "potentially serious" thumb issue, things may be getting complicated for the Heat before they even start.