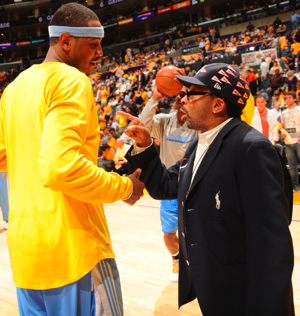 Posted by Royce Young
This just feels like one of those stories too good - or at least too straightforward and slightly weird - to be true.
Marc Berman of The New York Post has something interesting
on the
Carmelo Anthony
front this lovely Thursday.
According to a source familiar with the situation, Walsh has been motivated by information from Lee, a Knicks season-ticket-holder, that Anthony's first choice is far and away the Knicks. According to the source, Anthony has had several conversations in recent weeks with Lee, who has in turn informed Knicks brass of Anthony's feelings.
Of course then there's the information we already know that Carmelo "definitely, 100 percent wants to be a Knick." Which is potentially why he's stayed so mum on the topic right now. He's using back channels to get things done, instead of working on the front. It's smart PR and it's the best way to get things done.
And let me stop you right there - since Lee is not part of the Knicks organization (not officially, at least), this isn't considered tampering. So Carmelo evidently has Lee's ear, who is influential in the Knicks front office.
That's nice and all, but it doesn't matter what Spike Lee says to Donnie Walsh.
As Ken Berger reported last night,
the ball is in Denver's court. It's their call. They can trade Carmelo when they want, or not trade him at all.

But as Berman noted, the Knicks have made everyone on the roster available to the Nuggets, sans Amar'e Stoudemire. But right now, Danilo Gallinari, Anthony Randolph and Eddy Curry's dead body (plus his contract) just isn't enough. So maybe the Knicks are working in a third team. Or maybe they intend on waiting out the Nuggets a bit until they soften.

This is a step for New York though. Up until basically this week, they weren't really even considered a contender for Anthony outside of the fact that's where he wants to go. New Jersey has always been said to have the best deal (and they still do), but at least the Knicks have gained some traction. So that's something.

At some point, Carmelo Anthony will be packing to head to another city. And if we're to believe he's enlisted the help of an influential filmmaker, maybe it'll eventually be the place he so badly wants.