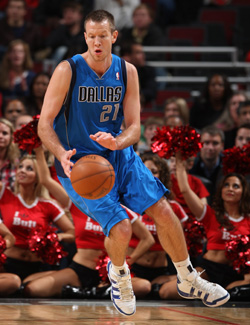 Mavericks unexpectedly keep Steve Novak and Brian Cardinal despite previous decision to only hold 13 on roster. Posted by Matt Moore

The Dallas Mavericks are simultaneously gunning for this season and setting themselves up for the future.
Dirk Nowitzki
is entering his last contract.
Jason Kidd
is a dinosaur.
Jason Terry
is less of a jet and more of a Wright Brothers airplane. But it's still talented, versatile, and a strong contender for the No. 2 seed in the Western Conference. To fill out that versatile orster, the Mavericks today confirmed that both Steve Novak and Brian Cardinal would be making the roster.
To make room
, they waived Rashad McCants and Sean Williams.
The Mavericks had spoken strongly of only carrying 13 on the active roster, but
loved what both Cardinal and Novak did in camp and preseason
. It's an example of how hard work and chemistry can overcome an organization's conservative convictions. Cardinal is nothing to write home about, but he's a pro and has a good reputation from previous benches he's played on. Novak is a curious case. He blossomed in Houston, struggled in LA with the
Clippers
(who doesn't?) and has been lighting it up in preseason. He's shot 41% in thre preseason and with his size could be a dangerous perimeter option off the bench in a crunch.
Meanwhile, the Mavericks cut McCants who is expected to join their D-League affiliate in Frisco which begins play this year. Though not formally associated with the Texas Legends, the Mavericks have been instrumental in the formation of the team, with GM Donnie Nelson taking a significant role in the franchise. The Mavericks appear to be starting to examine their future, even as the current core begins another desperate attempt to finally claim the ring to validate a stellar run in the 2000's.