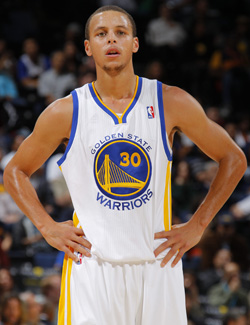 Warriors guard injured in preseason game collision.
Posted by Matt Moore
UPDATE 12:50 a.m.:
Warriors PR reports that it's a sprained right ankle and that
he is listed as day-to-day
. Great news for Warriors fans, especially with Curry
set with so much hope for the future
. We'll keep you updated on if any further tests are done on the ankle. (Via the
San Francisco Chronicle
)
Golden State Warriors guard
Stephen Curry
was injured Thursday night when he collided with
Steve Blake
of the
Lakers
during the Lakers' preseason win over the Warriors in San Diego. Reports were conflicting about whether it was Curry's knee or ankle that was injured, but Warriors site
Warriors World
's forums posted this photo
showing the injured ankle
. It's important to note that despite the headline of that page, there has been no confirmation that Curry broke his ankle, and what's more, Curry returned to the floor from the locker room to try and walk it off to no avail.
Curry was in significant pain from the injury. We'll update you on his status as soon as we hear anything. There's no reason to panic if you're a Warriors fan, but it bears keeping an eye on.
The Lakers rolled 121-99, with Steve Blake scoring 18 and 7 off the bench.
Related:
Check out
Ben Golliver's profile of Curry from this week
.
Greased Lightbox
→
←
+
-
↻
Loading image
Click anywhere to cancel
Image unavailable