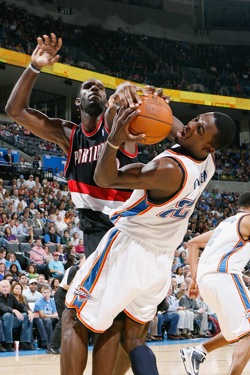 Posted by Royce Young
Yeah I know.
I've already gone over this.
But
Marc Stein of ESPN.com has some new information
regarding who could be seeing a last minute contract extension before the Nov. 1 deadline.
And as was before, there may only be one player in line to join
Joakim Noah
and
Kevin Durant
with extensions and that's
Al Horford
. Sources maintain to Stein that a deal before the deadline remains probable, given Horford's status as a borderline All-Star big man. Things were complicated with
Joe Johnson
's massive contract, but the fact Atlanta remains still on
Jamal Crawford
indicates they'd like to get something done with Horford.
But what about the other players? Stein says there's really nothing more than some "maybes" in that group. And that includes top pick
Greg Oden
. Reportedly, Oden is resigned to the fact he's not getting a deal and in fact, isn't really even asking for it. Understandable for both sides really. Oden's obviously had the health issues and both sides understand this is an important year for Oden's future not just with the Blazers, but in terms of his well-being.
How about
Jeff Green
, who I sort of went over already - where's he at? The
Thunder
have been characteristically quiet on negotiations but Stein says Green's camp and Sam Presti "aren't close" to getting anything done. However, there's been regular conversation between both sides and from I'm told, everyone is in good spirits. The Thunder are playing things carefully with Green with the new CBA coming plus
Russell Westbrook
's extension that's coming next summer.
Mike Conley
(taken No. 4),
Corey Brewer
(No. 7),
Rodney Stuckey
(No. 15) and
Aaron Brooks
(No. 26) and likely looking at becoming restricted free agents as a deal probably isn't headed their way.
Yi Jianlian
(taken No. 6) and All Thornton (No. 14) of the
Wizards
have at least had negotiations but nothing appears to be coming, Stein says. However, he believes Yi may be getting an extension much like
Andray Blatche
's sometime soon.
Two others that are at least having discussion are
Wilson Chandler
(No. 23) and
Jared Dudley
(No. 22). Wilson's chances aren't great but Dudley, who's a quality bench player and a nice 3-point shooter, has a legitimate chance.
Overall, there's a very strong possibility only two players from 2007 will be getting extensions, with the chance of a third in Horford. And it's not like it was a bad class either. A combination of factors including injuries, team situations and the uncertainty of the new CBA have really complicated things for the class.