Carmelo Anthony is said to be ready to wait until next year to sign a new contract. Should he feel more urgency given his situation in Denver? Posted by Ben Golliver.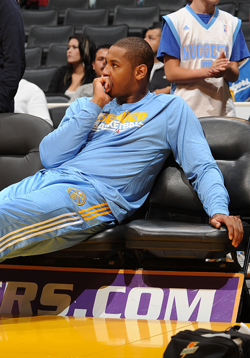 This afternoon,
Ken Berger noted
that one major, practical implication of the ongoing CBA negotiations is that Denver
Nuggets
star Carmelo Anthony might not feel the need to sign an extension prior to the implementation of a new CBA because the league could retroactively reduce the value of that extension, as the National Hockey League recently did.
An NHL-style rollback would result in Anthony's extension (if he signed it) and every other existing deal in the league being reduced to fit the new model. Maybe that is why a person familiar with Anthony's strategy told me that Melo is fully prepared to spend the entire season in Denver without signing an extension and then take his chances under the new deal. "Carmelo is not afraid to go into next year and test the CBA," the person said.
Kudos to Carmelo (and/or his people) for this confidence and patience. For now, by not yet agreeing to an extension, Anthony holds all the cards when it comes to influencing his future destination. He can wait for the right team to make the right offer, and for the Nuggets to agree to that team's terms, and then pull the trigger, or he can continue to wait and enjoy all the riches free agency has to offer. But while Anthony may be prepared to stick with things in Denver, history tells us that the next year of his life could be nasty, brutish and interminable. Let's take a look at three recent, high-profile examples.
LeBron James
LeBron James was bombarded with questions last fall regarding his future with the Cleveland
Cavaliers
and he did a commendable job of sidestepping the issue until the season ended. As Danny Ferry and Cavs management desperately did what they could to put a winning team around him, including a trade deadline deal for
Antawn Jamison
, it became clear very quickly during the playoffs that the Cavaliers were not going to be the championship team they had hoped to be. James's season ended in bitter disappointment and defeat, frustrated with a supporting cast that couldn't keep up with the Boston
Celtics
and fed up with shouldering the burden by himself. Given Denver's aging roster and injured frontline, it's easy to imagine a similar situation playing out if Anthony decides to stick around. It's a certainty that the Los Angeles
Lakers
-- deeper, more athletic, longer, more talented, more tested -- would pick the Nuggets apart in the playoffs. The only question would be whether it would take four games or five games. Anthony, a collegiate champion, should understand that reality better than anyone, just like James did last spring, when he quit on his Cavs teammates because he knew not even a superhuman performance from him would overcome the Celtics collective. Indeed, James's Cavaliers supporting cast last season was arguably better than Anthony's this year. The question Anthony should be asking himself is, "If LeBron couldn't do it, how will I?"
Amar'e Stoudemire
The best case scenario for Carmelo Anthony if he does stay in Denver is the path traveled by Amar'e Stoudemire last year in Phoenix. Despite trade rumors whirling throughout the year, Stoudemire came on strong down the stretch, helping
Steve Nash
and an inspired
Jason Richardson
push the
Suns
all the way to the Western Conference Finals. It was surely the highlight of Stoudemire's career and it paid off in a big way: a max deal from a big city, marquee franchise in the New York
Knicks
. Are the Nuggets capable of such a push? Probably not, but no one foresaw the Suns streak last season either. If there's a key difference between the two teams it's that there are no major systemic changes for the Nuggets entering this season. Other than the addition of
Al Harrington
, it's a similar cast of characters, one year older, and with the same coaching staff and philosophy. The Suns surprised people in large part due to the quick success that came from a shift in coaching style and offensive philosophy brought on by coach Alvin Gentry. Also, the Suns possessed unbelievable chemistry on the second unit, something Denver doesn't possess on paper. While it's not impossible for the Nuggets to ride Anthony and his veteran teammates deep into the playoffs, it's also not likely. If you're Anthony, are you really willing to bet on that risk?
Chris Bosh
The worst case scenario for Anthony is what Toronto
Raptors
forward Chris Bosh endured last year. Forced to carry a mediocre supporting cast, Bosh simply couldn't do it, and the Raptors failed to quality for the playoffs as critics questioned his toughness and commitment to winning. Disagreements and bickering between teammates were clearly visible on the court last season, and Bosh was unwilling, unable or too frustrated to rally the troops. During late-season road trips it was difficult to imagine a less enthusiastic prime time player, as Bosh went through the motions and the losses piled up. Could this history repeat itself in Denver? No question about it. If the Nuggets start slow, or
Kenyon Martin
misses significant time, or
Chauncey Billups
is out for a stretch, or Anthony doesn't get his required touches one night, what happens? If his heart and mind are already somewhere else, what's in Denver motivating him to pull the team together? This nightmare isn't difficult to imagine. In fact, I would say it's the most likely of the three situations discussed, given Denver's questionable depth, the fact they are playing in a loaded Northwest Division and the tumultuous offseason the organization just endured. Keeping these examples in mind, shouldn't Anthony and his people go easy on the "wait it out" approach? If it's just posturing, fine. But if they're serious? They need look no further than to last season to realize it's not the best idea. For Stoudemire, James and Bosh it all worked out fine in the end: they found lucrative new homes thanks to the wonders of free agency. But it wasn't an easy path to riches, and Anthony would do well to remember those struggles as he ponders his own future.