The Utah Jazz finish the preseason undefeated and coach Jerry Sloan still isn't satisfied. Posted by Ben Golliver.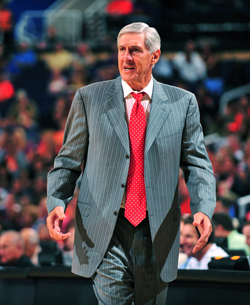 We give you
gruesome injury photos
.
Luxury car photos
. Goofy Adam Morrison
photos
. All in the name of entertainment and distraction. But these are cheap tricks when compared to Utah Jazz head coach Jerry Sloan, whose single-minded devotion to achieving perfect basketball play is as entertaining as the NBA gets for die-hard hoops fans. To recap, the Utah Jazz
completed a perfect 8-0 preseason
tonight, holding the Sacramento
Kings
to just 71 points (only 13 in the fourth quarter!). The Jazz's average margin of victory was 8.125 points per game during the exhibition season, and they beat division rival Portland twice, the Los Angeles
Lakers
(the league's best team) twice and the Phoenix
Suns
, a playoff team last year, twice. This year marks the
first time in the illustrious history
of the Jazz franchise, and the first of the Sloan era, that the completed the preseason undefeated. Sloan enjoyed the accomplishment for approximately 0.0 seconds.
Brian T. Smith of the Salt Lake Tribune caught up
with Sloan after the game, who looked to manage expectations and criticized his team's work ethic.
"Teams will take a lot of stuff away from us that they gave us in exhibition season," Sloan said. "That's just the nature of this business. That's why you try not to get too high." Sloan on losing focus: "I don't think we're losing our focus as much as we're losing our ability — we were running harder; running for layups. Now, when the ball goes in the post we're not getting anything out of it. We're not getting any screens or things like that you've got to be able to do if you get in tough ballgames, because you can't always beat somebody one on one."
That enduring perfectionism is what makes Jerry Sloan the NBA's best coach, and it's what will keep him the league's best coach until the day he decides to retire. It's also what makes him so entertaining. 8-0! Take a shot, Jerry, live a little! He never will.