Sacramento Kings owner Gavin Maloof says his team will not be contracted or sold. Posted by Ben Golliver.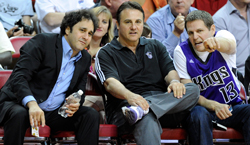 The hot topic in the NBA this week has been the possibility of contraction, and how and why it's being used as a
negotiating technique
as the players and the owners work to create a new Collective Bargaining Agreement. When the story first broke earlier this week, I took a look at how the idea could be seen as an "either you're in or you're out"
challenge to small-market owners
, a dare to struggling owners to fold, sell, or relocate so that they do not create unnecessary complications later on down the road during negotiations with the players. That brings us to the Sacramento Kings, who are in a small market, have been embroiled in a lengthy struggle to get a new arena, have been linked to the city of Seattle in rumors, and who have struggled financially since falling from their glory days earlier this decade. On Saturday, Kings co-owner Gavin Maloof stated unequivocally to Joe Davidson of the Sacramento Bee that his franchise should not be linked with the
recent talk of contraction
, even after NBA Commissioner David Stern expressed frustration on Friday with the Kings' inability to get a new arena approved in Sacramento.
"My optimism on there being a new building (in Sacramento) has faded completely," Stern said. "We really tried hard, the Maloofs spent a good deal of money. … And frankly, it wasn't meant to be.
"I don't have any more good ideas. Where we flow on that, right now we have a season to worry about, and I know that the Maloofs are spending their time feeling really good about their Rookie of the Year last year, their draft choice this year, their coach and the general makeup of their team."
Upon hearing Stern's quote, Gavin Maloof told The Bee: "We're not contracting. That's not going to happen. No way we'll fold – and no way we're selling."
Gavin Maloof and his brothers are widely regarded as a strong ownership group with a deep commitment to their organization. With a solid, developing young nucleus that includes 2010 Rookie of the Year
Tyreke Evans
and 2011 Rookie of the Year candidate
DeMarcus Cousins
, the team is only on the rise, both basketball-wise and finances-wise. These statements are a promising sign for Kings fans and they stand as an example league-wide, too: bullying struggling clubs won't produce instant results. With that said, surely Kings fans are reading Maloof's quote and asking themselves why he didn't explicitly rule out the possibility of relocation. While relocation is surely a better option than contraction for any NBA team, there wouldn't be a tangible difference between the two for Kings fans.