The Miami Heat have signed free agent guard Jerry Stackhouse. Posted by Ben Golliver.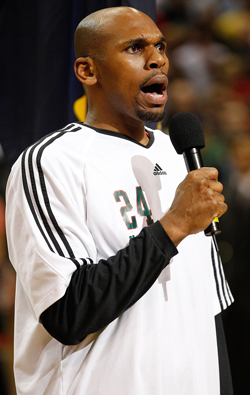 The Miami Heat
announced on Twitter
Saturday that the team has signed veteran guard Jerry Stackhouse,
as expected
. Heat star guard
Dwyane Wade
welcomed Stackhouse to Miami on Twitter,
writing
, "Welcome Jerry Stackhouse to the Miami family everyone. He is now apart of us. Shhhh dont bring up 06." The tweet is a reference to Wade's Heat facing off against Stackhouse and the Dallas
Mavericks
in the 2006 NBA Finals, which the Heat won. Stackhouse, 35, is running on fumes, but the Heat had to pull the trigger after losing forward
Mike Miller
for months with a finger injury.
This year's Basketball Prospectus
cautions not to expect too much from Stackhouse.
Jerry Stackhouse has entered the Roger Clemens phase of his career, where he sits out training camp and the early part of the season, waiting until some team that needs an infusion of offense comes calling ... He was useful in spurts for Scott Skiles in Milwaukee last season and played some important minutes. When you add it all up, however, he was merely filling space. If Stackhouse wants to play in the NBA this season, he probably will, but fans of whichever team he ends up with shouldn't expect much.
The Heat are an ideal landing place for a player in Stackhouse's situation. Where better for an aging player to hide out when he no longer has the physical skills to dominate? Long, athletic players like Wade,
LeBron James
, and
Chris Bosh
will provide cover for him at every turn. It's fair to call this a marriage of convenience for both parties but it comes at a small financial price and the timing is right for Miami, who needed to quickly plug a hole as they prepare to open the season Tuesday in Boston. With the signing, Miami's roster stands at 17 players. Two will need to be cut or traded prior to Monday's deadline for teams to set their 15 man rosters. Guard Patrick Beverley and forward
Da'Sean Butler
are the most likely Heat players to be released.