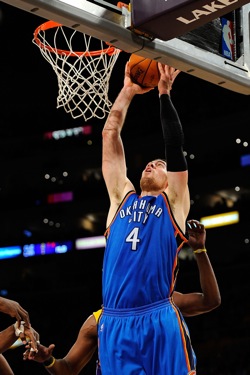 Posted by Royce Young
Last season, the Oklahoma City
Thunder
famously skirted by without any real injury issues. Though already without even playing a game yet, the Thunder's frontcourt depth has taken a hit.
Veteran forward
Nick Collison
will likely miss the first three weeks of the season
reports John Rohde of The Oklahoman.
Collison is fighting some lingering effects from a lower left leg stress reaction. It's really just a pain issue and Collison said he could probably play through it, but with the season just starting, he's playing it smart so that maybe he doesn't feel any effects later on in the year.
"It's a tough injury because I feel pretty good walking around," Collison told the paper. "It's not a question of if I can play right now. I play through pain all the time. Guys always do it. I could play through the pain right now, but if I start to grind on it when it's not healed yet, there's going to come a point where it starts to go back downhill, and that means I would have to sit out long term. I'm just trying to wait until the bone heals."
Collison has yet to practice and basically all he's done so far is some aquatic training other than the usual ball-handling and shooting stuff. He said he's in decent shape already but upon his return, he'll likely have to be worked in.
As for the Thunder, Scott Brooks really prefers a nine-man rotation and Collison was a major part of that. With his absence, rookie
Cole Aldrich
will likely get an early opportunity to showcase his ability. Explosive big man
Serge Ibaka
will see more time than usual and potentially even a player like
D.J. White
could see time if Aldrich isn't ready.
It's by no means a major blow to the Thunder and last season, OKC dealt with some players like Collison, Krstic and
James Harden
missing a few games. But having a key rotation guy battling an injury that could nag him for the season isn't what you're looking for before you even play a real game.