Rejoice! The NBA season starts tomorrow. As the league's 30 teams make final cuts and set their rosters, here's a first look around the NBA at this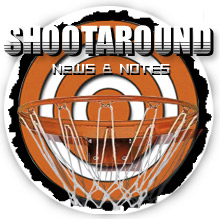 week's happenings. Magic talks contraction, Delonte dances, Steve Nash gripes, Jeff Green stays focused, Shelden Williams and Jason Terry start, plus a whole lot more.
Posted by Ben Golliver.
Los Angeles Lakers legend Magic Johnson tells NaplesNews.com he would be in favor of contraction in the NBA. "How much would it hurt the league if we lost teams? It wouldn't hurt it. It might make it better," Johnson said. "… I think if you take away a couple teams, the talent level goes up and the league will only benefit, so I don't see a problem with that. We just hope that we put a good product out on the court, and that's the key."
Phoenix Suns all star point guard Steve Nash tells Seth Pollack of SB Nation Arizona that he wouldn't bet on the Suns to make the playoffs in the Western Conference and that the team has chemistry question marks. "To be honest, if I was outside this picture and a betting man, I would probably pick us to be outside of the playoffs considering all the changes and the new guys."
Eddie Sefko of the Dallas Morning News writes that perennial sixth man of the year candidate Jason Terry will open the season starting for the Mavericks. "Terry started at shooting guard Friday in a 97-96 win over Houston in the preseason finale. Coach Rick Carlisle has kept a tight lip on who will start the opener against Charlotte. But it appears Terry has the inside track, at least until Roddy Beaubois returns from left foot surgery."
It's a contract year for both forward Jeff Green and guard Russell Westbrook in Oklahoma City, but Thunder coach Scott Brooks tells Darnell Mayberry of The Oklahoman that he's not worried about Green putting his own interests above the team. "Maybe because I know him," Brooks said. "I know who he was when he came into the league, and he hasn't changed. He still works every day in practice. He still tries to get better. He still tries to make the right play. He's not forcing shots. He's not taking bad shots … He hasn't forced anything in camp. He's a pro and he likes being on this team."
ESPN.com's Michael Wallace quotes LeBron James on Celtics fans in advance of tomorrow's season opener between Boston and Miami. "They bleed green; that's all they care about," James said. "We have to be mentally focused and mentally prepared. Some arenas believe and love basketball more than others. Sometimes, more history adds more intimidation. Not saying it's an intimidation factor for me. It's never been an intimidation factor for me. But as far as the crowd and as far as the team, Boston is one of those hostile environments to play."
Minnesota Timberwolves wing Martell Webster, acquired in a draft night trade from the Portland Trail Blazers, will find out if he needs surgery on an ailing back today. Jerry Zgoda of StarTribune.com quotes Webster: "It's just one of those things that starts to nag and you don't want to make it worse."