Memphis Grizzlies owner Michael Heisley tells fans they shouldn't worry about the team's future in Memphis. Posted by Ben Golliver.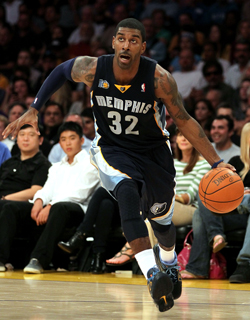 The word of the week in the NBA has been
contraction
. Once
Ken Berger broke the news
that reducing the number of teams in the NBA from 30 was an option that will be considered during upcoming rounds of Collective Bargaining between owners and players, the spotlight started shining on the league's struggling franchises, with an apparent gap developing between rich and poor. Small-market Sacramento
Kings
co-owner Gavin Maloof came out quickly to state unequivocally that the Kings
wouldn't be contracted or sold
, while big-market former Los Angeles
Lakers
co-owner
Magic
Johnson came out
in favor of contraction
. Over the weekend, another small-market owner, Michael Heisley of the Memphis Grizzlies, was
interviewed by Geoff Calkins of the Memphis Commercial-Appeal
about the future of the Grizzlies, who are celebrating their 10th anniversary season in Memphis but are struggling to fill their stadium. Calkins asks Heisley whether the Grizzles can survive another 10 years.
"I don't know if I'll make it to a 20th year!" he says.
Heisley laughs. Even at 4 a.m., the man has a point. Who knows what will happen over the course of the next decade? Who knows if the Grizzlies will still be here in 2020? Who knows if Heisley -- now 77 -- will even be around to own the team? "I don't think it's something for people to worry about," Heisley says.
Making promises you can't keep is a cardinal sin for a professional sports team owner, so Heisley plays this one correctly, re-assuring the team's fans without committing to something he can't certainly deliver. Calkins goes on to paint a morbid picture -- a half-empty FedEx Forum, talk of relocation at the team's 10th birthday party -- but he also points out that the team's arena deal and the depressed national economic state work against a Grizzlies relocation plan. The Grizzlies almost always make the short list for teams that might be contracted, given their attendance, struggles to make the post-season, and the fact that the team is in Memphis after relocating from Vancouver, in probably the best case of an expansion going wrong for the NBA. One thing's for sure: no team that has been included in the contraction discussion has more talent than the Grizzlies.
Rudy Gay
,
Marc Gasol
, OJ Mayo,
Mike Conley
and
Hasheem Thabeet
would make for one heck of a dispersal draft. Thanks to Heisley, however, that fantasy doesn't sound like it's in play any time soon.