The Miami Heat have named Dwyane Wade and Udonis Haslem captains. Wade helped keep Haslem in Miami and has decided he wants a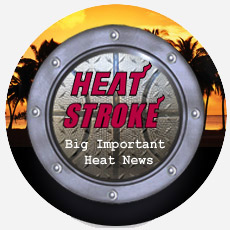 new nickname. Posted by Ben Golliver.
With their season opening tomorrow night in Boston, it's a whirlwind day for a whirlwind Miami Heat team. The biggest news? The best professional basketball player in the world,
LeBron James
, won't even be a captain on his own team. Ira Winderman of the Sun-Sentinel
reports on Twitter
that the honor will go to guard Dwyane Wade and forward Udonis Haslem.
Winderman quotes Haslem
as saying that "all voices will be heard" and that "LeBron James is one of the best leaders I've been around." I read this as good news for all parties involved. If James decides to quit on his team during the playoffs again, he'll have to answer to a championship-ring owning star
and
a bruising power forward. The relationship between Wade and Haslem is much deeper than simply co-captains, though. As
Dan Le Betard of the Miami Herald reports
, Wade was instrumental in pitching James and fellow free agent signing
Chris Bosh
on the idea of taking less money to ensure that Haslem, who was himself a free agent, would stay in Miami.
Wade called Bosh and asked him to cut $15 million off his salary for Haslem. Wade called James and asked him to do the same. Bosh and James barely knew Haslem. Just a few short conversations here and there. But Wade told them this team needed someone hungry and gritty and unselfish like Haslem, and promised to cut $17 million out of his own contract to make it happen, too. ``They said `I'm in' without hesitating,'' Wade said Sunday.
Now that's leadership. The moves allowed the formation of the strongest roster in recent NBA history and opened up a new chapter in Miami Heat basketball. This fact hasn't escaped Wade, who says he wants a new nickname to go along with the new era.
Winderman writes
that "Flash" will no longer cut it...
Shaq bestowed the nickname on Wade shortly after O'Neal's 2004 South Florida arrival. Wade took the moniker and ran with it. Superman and Flash it was. Since then, the two have grown apart, O'Neal lamenting Wade as "Wonder Boy" in the Heat locker room after Wade began to receive the greater amount of attention during the final days of their Heat collaboration.
OK, cool, whatever. Wade is the rare athlete that transcends blog snark. He has a ring, got LeBron James to sacrifice for the greater good, hooked up his buddy Udonis in a big-time way and is poised to co-captain a team that should make a serious run at 70 wins if it takes things seriously. I give up. He can have whatever nickname he wants.