This is the way your season ends. This is the way your season ends. This is the way your season ends. Not with a burn, but in gold. Posted by Matt Moore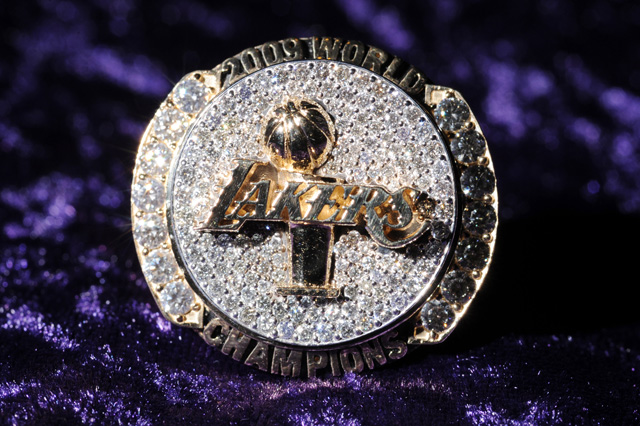 You see that?
That's theirs. It was theirs last year. It's theirs this year --
tomorrow night, actually
. And unless Boston figures a way to play better and stay healthy, or the Triad is actually
as good as advertised
, then it'll be theirs again this year. They are that good. They are that strong, that experienced, that focused and that deep. But most of all? They're that good.
And here's how it will happen.
This locker room, from all indications, is not unlike your typical successful business office. It's not a monkey bars meet-up like Oklahoma City, nor is it some sort of
Reservoir Dogs
luncheon like
what I experienced
in the
Heat
locker room. It's just like a succesful office. Guys hang around the water cooler, yucking it up about
Monday Night Football
or the obnoxious dude down the hall. There's a comfortable familiarity, everyone knows each other and Christmas parties are a blast. Everyone gets along, outside of the Slovenian dude who keeps blasting Drake at high volume on Fridays and can't figure out how to work the printer. Someone brings doughnuts, the kitchen's usually pretty clean, everyone pulls their weight, and the chatter about
Glee
is both in-depth and hilarious.
And everyone's afraid for their jobs except the two guys with corner offices.
There's a level of excellence demanded of this team, and it starts and stops with Phil Jackson and
Kobe Bryant
. That mindset -- the professional, hyper-achieving without sacrificing the mind concept -- is what permeates. It makes the team disciplined and proficient, and it makes most of its players terrified of the day when they slip up in front of the bosses. You will not fail, because Bryant and Jackson will not allow you to fail.
The Triangle really isn't the right fit for most of this team. That's not only pretty certain, it's painfully obvious.
Shannon Brown
, when released from the shackles, looks like a dynamic, powerful, well-intentioned guard. Within its confines, he's like an ADD kid trying to sit through
The English Patient
.
Lamar Odom
? Everything he does is largely outside of the triangular box, filling in the gaps and playing loose within the margins. The only players that really benefit from the system are Kobe,
Pau Gasol
and
Derek Fisher
. Phil Jackson does too, of course. Because Jackson doesn't have to spend the time running out variation upon variation. It exists upon itself and all he has to do is teach it right. This isn't because he's lazy, far from it. It allows him to work on what is most important. Getting their minds and souls in the best place to compete. Sometimes that means kicking the dog down the stairs and to New Jersey to play backup point guard. And sometimes that means questioning the player in the press in order to get him to have the best run of his career, like
Ron Artest
. It's a balance that allows for focus.
Are there questions? Sure.
Starting and ending with Bryant's knee. It's not 100%, not close to it. But the man won a title with nine fingers and 1.5 knees. So I wouldn't let your breath out when he has the ball, kiddos. If there's one thing Bryant's shown, it's that he adapts. Constantly. Growing a post-game, grinding out the mid-range jumper, bombing from downtown. He'll do what the team needs, what he needs. There's no quit in Mamba, but there is a gigantic set of fangs.
Also, this team coasts. For days and weeks. Long stretches when they simply could not care less. Lazy passes, weak defense, a lack of hustle that would put Jerome James to shame. They know they don't have to care, and they don't. To the point where it's entirely possible they won't have the top seed in the West, depending on whether the team stays healthy. But they'll be there, and that's all they need.
The team relies on an absurd level of talent. While people scoff, cough and vomit towards the Triad in Miami, the
Lakers
employ two Hall-of-Famers, three quality starters (at least for the two weeks Fisher is awesome per year), a talented, if oft-injured, legitimate center in a league that doesn't feature many.
Matt Barnes
and
Steve Blake
, starters on other teams, are the seventh and eighth men on this one. It's a team loaded for any opportunity and its personnel fits its needs. Blake can spot up and run the offense (to the degree the Triangle needs running from the point). Barnes plays defense and will basically be a poor man's Odom. And the starting unit is so loaded, it doesn't matter.
Gasol may shoulder more of the load this year, and that's fine, since many considered him the best big in the league last year. That fadeaway touch jumper from the mid-block? You can't stop it. Usually, the only thing keeping Gasol from posting huge numbers is his comrade in arms taking jumpers.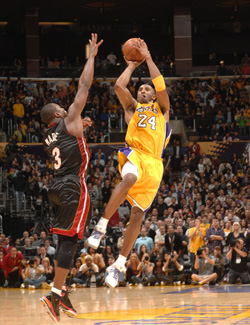 And Kobe will shoot. That's who he is and his ego won't let him do anything else. He'll fire until there are no more bullets left. Then he'll throw the gun. No other player so often garners condemnation for his shot selection, then completely backs it up by nailing the game winner. He'll put his team in a position to lose by firing off-balance J after off-balance J, then hit the running game winner and come off smelling like roses. He played horribly in Game 7 of the Finals and still came off the hero. Because for all the misses, he's still the guy you want shooting and still the guy that can drop 50 if things go his way.
Fisher is a massive liability at both ends of the floor ... until he's not. Bynum is a half-player that cannot be relied on to make the tough play ... until he does. And no player better symbolizes the kind of transformation wearing the yellow and purple can have on you more than Ron Artest. From Crazy Pills to mental health spokesman, gunner without a conscience to brilliant complementary player, from loose cannon to lovable winner. This is what L.A. can do for you, what Staples Center and Lawrence Tanter can do for you, what the gold of a championship team can do for you.
And it will do it again.
Get excited about Miami's superstar power. Get riled up about Boston's defense, or the seemingly endless wave of up-and-comers. But know this.
Tomorrow night, the reigning champions will receive their rings, the second of three they intend to get. They have the pieces, they have the board, they have the plan, they have the manifesto, they have the leaders.
Now all they need is the game.