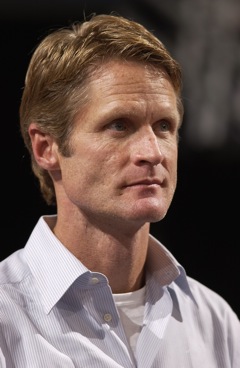 Posted by Royce Young
If you're an NBA observer watching the current labor issues and CBA negotiations, you don't know what to believe. The players' union says the league is making tons of money. The league says its losing tons of money. The fans don't care. We just don't want to lose basketball games.
But in an interview with CNN.com,
former
Suns
general manager and current TNT analyst Steve Kerr agrees with the league's financial position.
CNN: You were a general manager and a player, so you've seen the league's economics from both sides. The NBA is projecting about $350 million in losses this season -- do you think that's an accurate figure?

Kerr: Yes. Having been on the management and seeing a lot of numbers both in Phoenix and elsewhere, I think that's an accurate number.
Well then.
Kerr attributes the financial troubles to rising player costs in a bad economy. We've heard that story. But he also mentions how owners are equally to blame because previously bought teams 30 years ago for $20 million just waiting for the value of their franchise to skyrocket, so they were fine with losing some money. Now, Kerr says, owners buy teams for $300-400 million and can't afford to watch the money fly out the door because there's not a big payoff in the future.
And then of course the issue of reducing player salary. Here's Kerr's thoughts:
CNN: Is it realistic that player costs can be reduced by 1/3 as the commissioner David Stern says he wants to do?

Kerr: I don't think anyone really knows. Usually in these situations, Stern's the master in these negotiations for sure and everything he says is calculated and there's a plan behind it and maybe the plan is go for 1/3 and get 1/4 -- I don't know. He knows what he wants, he knows how to get it, and he also knows that it is a partnership with the players and there has to be compromise and we'll see how it all unfolds.
Stern definitely knows what he wants. And he knows the league and the owners have the upper hand. It's all a matter of how hard and how long the players are willing to fight. Kerr said a lockout is very possible and that this situation is "more severe" than in 1999, the last time there were negotiations.
Stern says this might be the best NBA season ever. Let's hope it is, because we might have to savor it for a little while if things don't start looking up.