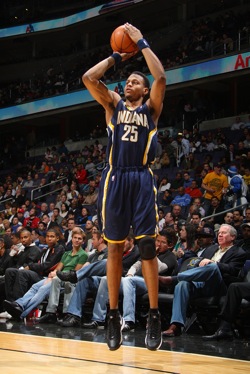 Posted by Royce Young
Adrian Wojnarowski reports
that a New York
Knicks
scout, Rodney Heard, may have broke NBA rules by conducting secret workouts of collegiate players throughout gymnasiums in suburban Atlanta.
One of the workouts in May of 2007 led to
Brandon Rush
's ACL tear that forced him to withdraw from the draft, rehabilitate and return to Kansas for another season. (He did get a national championship out of it though.)
But on top of that, other players were improperly worked out. Wojnarowski reports that Heard trained
Wilson Chandler
for multiple weeks before the 2007 predraft camp. And of course the Knicks drafted Chandler that year.
Dar Tucker said Heard led two-a-day workouts for him and other players for "multiple" days before the 2009 draft. (NBA rules limit teams to two total workouts spaced three days apart.)
Heard also reportedly oversaw workouts in 2010 for players that included
Ekpe Udoh
and Tory Jackson from Notre Dame.
In the past, the NBA has fined teams and suspended team officials involved in improper workouts. None of those incidents though spanned multiple seasons or involved an injury to a player who could have been a potential lottery pick. Yahoo! contacted Heard who denied being involved and the NBA declined comment. Heard said of Rush's injury:
"That's so far from the truth ... Someone called me and told me he got hurt. I was in Florida at our staff meetings."

When told that Rush said he was running the workout, Heard responded: "I wasn't there. That's a lie."
But the players mentioned are on record saying Heard led the workouts. Rush told Yahoo! he hurt his knee in a three-man weave and that Heard was running the workout. Tucker and Jackson also confirmed Heard's involvement in their workouts.
The NBA has made it pretty clear that teams aren't to work out players before the conclusion of the predraft camp. The NBA has publically fined teams over this issue and suspended coaches and general managers. Notable ones include George Karl in 2005 for attending a workout at Marquette (he was watching son Coby), Don and Donnie Nelson for attending a private workout in Yugoslavia in 2002 and John Lucas who was coaching the Cavs in 2002 for including
LeBron James
in a workout who was a junior in high school.
There are a lot more details and information in the story to look over but it's pretty clear this is a big deal and the Knicks and Donnie Walsh will likely be hearing from the league soon.