Minnesota Timberwolves point guard Jonny Flynn is expected out until mid-November, at the earliest. Posted by Ben Golliver.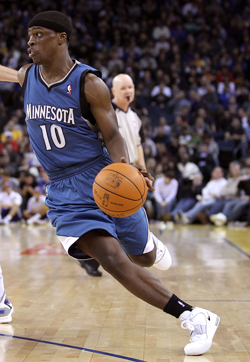 Yesterday,
we noted
that Minnesota Timberwolves wing
Martell Webster
, acquired in a draft day trade with the Portland
Trail Blazers
, underwent back surgery and is expected to be out 4-6 weeks. In another piece of Timberwolves injury news, Jerryd Zgoda of StarTribune.com
reports on Twitter
this afternoon that Minnesota's presumed point guard of the future (at least until he's inevitably traded) Jonny Flynn, a second-year player out of Syracuse, "predicts he'll be back playing games in mid to late November." Flynn continues to recover from
hip surgery this offseason
. A sensation at the 2009 Las Vegas Summer League, Flynn has booster
Rockets
going to the basket off the dribble, but struggled to run the team's offense during his rookie season. His personality and work-ethic are tops in the league, and he would be a media darling if anyone actually cared about the Timberwolves. The Timberwolves could have replaced Flynn with either
Ty Lawson
or
Ramon Sessions
, but both were traded. 2009 lottery pick
Ricky Rubio
would have been another good option, but it will be 100 degrees on Christmas in Minneapolis before the Spanish sensation ever suits up for general manager David Kahn and company. So, in Flynn's absence, veterans
Luke Ridnour
and
Sebastian Telfair
(weird to call Telfair a veteran, but it's true) will pick up the point guard slack for coach Kurt Rambis.