A Cleveland radio disc jockey has issued a "hex" on Miami Heat star LeBron James. Posted by Ben Golliver.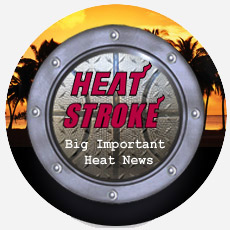 We found our silver medalist in the LeBron James Hater Olympics. While no one will surpass the
racist tweeter
from last week, Rover, the host of Cleveland's "
Rover's Morning Glory
" FM radio show, comes in a close second now that he has hired a witch doctor to hex Miami Heat forward LeBron James and has publicly wished for James to suffer an injury. James, of course, spurred the Cleveland
Cavaliers
to join up with
Dwyane Wade
and
Chris Bosh
on the Heat this past summer.
WOIO.com has more details
on the planned hex.
Rover, host of the syndicated Rover's Morning Glory program hired a witch to place a curse on Miami Heat star LeBron James the morning of the Heat's season opener, Tuesday, October 26. Rover says the curse is payback for the insensitive, pompous way James abandoned the Cleveland Cavaliers.
The witch, Samhain and assistant witch Lady Magick used bones, blood, and James' Miami Heat jersey to place a hex on the star live on the air. Rover asked all Cleveland-area listeners of the show, which is based at 100.7 WMMS-FM, to simultaneously focus all their negative energy towards James during the ceremony.
"A broken leg, hand or other debilitating injury would be the best outcome," says Rover. "At the very least a sordid sexual misconduct accusation against LeBron would be alright I suppose."
Shake. My. Head.