Follow Matt Moore and the F&R gang's thoughts on opening night of the NBA as the Celtics host the Miami Heat with LeBron James, Dwyane Wade, 9:Chris Bosh. Posted by Matt Moore
We'll be here all night sharing thoughts on the opening game of the 2010-2011 Season.
2nd Half:
10:14
And that will do it. Ken Berger will have more later tonight and we'll have more tomorrow on this game. Good comeback from the Heat, but a much better performance from the very-complete Celtics. Defense wins, again. Thanks for joining us.

10:10
Wade elects to take a turnaround fadeaway which doesn't fall, then fouls Pierce for an automatic two. 8 point lead. Always be closing, folks. Overrated chants ride again.

10:09
The Heat elect to leave Allen after he drives and dishes. He naturally rotates to the corner. And calmly drills a wide open three. The one guy you can't leave open. The ONE guy.

10:05:
10-0 run for the Heat out of NOWHERE. 3 point game with 1:10 to go.

10:04
: Rondo has 17 assists tonight, which is insane.

10:03:
The Heat will get Miller back in two months. Until then, they are going to struggle shooting.
James Jones
and
Eddie House
do not look good at all. Could have used some younger guards.
9:59:
Celtics fans chime in with the "Overrated" chants. Hard to argue with 2:48, and the Triad down 11.

9:57:
Celtics have hit that extra gearand the Heat can't hit anything. 13 point lead and growing.

9:55:
Pierce draws a foul to make it 11 points with 4:38. Wade went to the rim, was pushed, no-call, and then screamed at the official. No technical there, and there definitely should have been.

9:54:
Jones with a huge three but now the Miami defense is faltering. Pierce from the outside, automatic. 9 point lead with a little over 5 minutes remaining.

9:51:
Doc drops the first "Play together!" of the 2010-2011 season.

9:48:
Boston rattles off a Big Baby Drunken Seal dunk, A Big Baby mid-range, and a Pierce elbow J, and the lead is back 9, and that may be it.
9:43:
Heat have outscored boston 31-21 in the second half but still down 5. Rebounding is even, but the passing for the Heat is still not good enough.

9:41:
Good pass from Bosh to get it within 5, but
Glen Davis
gets an offensive rebound to set up Rondo at the rim. 66-59 Boston. Boston pick and roll defense has been off the charts tonight.

9:36:
Heat efficiency up to 85.1 to 94.0 for the C's. Heat have an offensive rebounding percentage advantage 26.5% to 23.1%. EFG% for Miami is still terrible at 38.9%.

9:33:
James with a stutter, hesitation move, to the hoop, up and under, and it's 63-57. Hey look, a game broke out!

9:32 EST:
House FINALLY hits a three, James gets another call, and the lead is down to 8. 63-55 Celtics.

9:30 EST:
Pierce goes to locker room with back spasms, but Ken Berger of CBSSports.com reports he'll return.

9:25 EST:
Marquis Daniels
looks great. Glen Davis looks great. The Heat still look terrible but James is heating up, last three shots. 62-50 with Davis headed to the line.

9:22 EST:
James draws a charge on Pierce on an obvious call, but for some reason the announcers freak out despite Pierce still moving backwards with every body guard and not having position. Cuts it to ten, but another
wide
open three for Allen pushes it to 13.

9:20 EST:
LeBron struggles mightily in a post-up situation, forces up a terrible off-balance J that barely gets rim. He's been really bad tonight. And he leads the team in scoring. That's the kind of night it's been.

9:13 EST:
Garnett's now got the mid-range 18 footer going. And when he's going, it's pretty much unstoppable. Like Boston looks. Shaq goes to the line with the Celtics up 15. Eddie House is back in and tried to shoot from the scorer's table. (Not really, but I bet he wanted to.)

9:10 EST:
It's 53-35 and things keep getting worse for the Heat. This has gone from cold streak to just a pathetic offensive performance from Miami. Now the C's are feeding O'Neal and drawing foul after foul to victimize the Heat's lack of center strength. There is literally nothing going well for Miami at this point.

8:02 EST:
This pretty much sums up the game so far.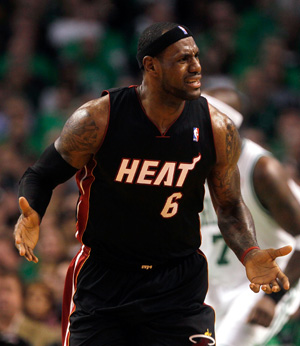 8:00 EST:
Trey Kerby with a great point
. Boston is the worst matchup for a team still trying to figure things out. But that doesn't excuse shooting 24%. Just doesn't.
TIP-OFF:
8:41 EST:
Davis the Drunken Seal hits an up and under to extend the lead. 47-30 at the half. Boston in control, in every regard.

8:39 EST:
The Heat are pretty much just throwing up jumper after jumper. No work to drive, no work to attack the rim. Just taking what the Celtics want them to take.

8:36 EST:
Boston with 12 Turnovers, 23.9% of all possessions, leading to wide open dunks. Gotta improve there or Miami will hang, even as horribly as they are shooting, which is, to be honest, painful.

8:33 EST:
Miami doing a great job on the offensive glass. But then, that might be because Boston knows they won't hit. Shooting 24% from the field. There are ways this could be worse for Miami. They all involve injury/and/or death, but it could be worse. And O'Neal just hit a pair of free throws. That's how well things are going. 41-25 Celtics.

8:31 EST:
I would give you some relevant stats, but nothing the score doesn't tell you. Boston 39 Miami 22.

8:26 EST:
Bosh has a jumper rim 180% of the way down and back out. The C's are hot again and the lead is 18. 38-20. This is an absolute disaster for Miami.

8:22 EST:
The low-point:
Michael Beasley
is making fun of you
.

8:20 EST:
James is missing from the free throw line, Boston can't miss, the Heat could not hit the ocean from outer space.

8:17 EST:
Eddie House is something like 0-for-every-shot-ever-taken at this point. It's getting worse. 31-15 Boston after a
Nate Robinson
cherry pick.

8:15 EST:
The Miami Triad are now 4-20 from the field. This looks more and more like a massive failure.
8:13 EST:
Miami right now has a 23% eFG (field goal percentage weighing threes) and a 44 efficiency rating which is horrific. It is quite simply a massacre, even though Boston's up 12 it might as well be twenty. 25-13 Boston. Wade is 1-7.

8:08 EST:
Boston so tough at the rim. They're just shutting everything down when the Heat hit the paint. Picture perfect rotations, and on the other side, they're sharing the ball and getting easy open buckets. Plus
Paul Pierce
is the Truth, if you hadn't heard.

8:08 EST:
Joel Anthony
with 7 rebounds early. That's kind of a lot. Heat still can't hit the braodside of a barn. 21-13 Celtics.

8:07 EST:
Heat bench pick up a technical for an assistant jumping up in regards to a call. No one is safe.

7:58 EST:
Interesting wrinkle. Celtics don't immediately deploy the weakside help, instead let James get right to the rim before Davis slides over for the charge. Davis with a nice move and the Celtics lead 16-9.

7:57 EST:
Wade looks rusty and off. And tired. Generally bad. Have to wonder if he came back too early.

7:50 EST:
Bosh is absolutely killing it at both ends of the floor. James with a chasedown that Danny Ainge is screaming was a goaltend. Have to see it on replay to know. Thing about it? James waited for Rondo instead of bursting forward, didn't let Rondo fake him out like he did in the semifinals last season. It. Is. Learning.
7:49 EST:
James goes post but can't finish. For some reason he just doesn't have the touch to finish. The Celtics thought about, but did not commit the double. Allen knocks down a three, C's killing the Heat with perimeter rotations.

7:44 EST:
Bosh goes baseline for a great jam. Bosh very impressive early.
Rajon Rondo
most impressive of all. 11-6 Boston.
7:42 EST:
Rondo drive and kick to Pierce for three. Come get some. So unstoppable. Rondo feeds the break for an O'Neal slam.
7:41 EST:
Only took four possessions for Shaq to score. This has begun well. 4-4 tie.
Boston leads 9-4.
7:40 EST:
So far, the Heat offense consists of: LeBron James. The end.
7:38 EST:
Bosh is hyper-active on rebounding to start, which is a big key. Shaq forces a miss on Wade at the
rim.
7:33 EST:
Shaq with a miss, and then consecutive offensive fouls. Thanks, officials, for getting in the way of an epic game.
Pre-Game
7:26 EST:
Celtics fans: "We are the most loyal of all fans! We are true in our feelings!" Shaq is on other teams: "Shaq is the worst!" Shaq becomes a Celtic: "We always loved the big fella! No one denies this!"
7:31 EST:
Bosh buries Toronto by saying "Not even close" to level of excitement for season opener. True, but unnecessary. His welcome back to Toronto should be fun. Seeing as how they're still not exactly over
Vince Carter
.
7:20 EST:
Chris Webber just compared
Al Jefferson
to a young Moses Malone. That's heady talk, but I love the comparison in gamestyle.
7:15 EST:
LeBron says this is the most hated team in the world. Hard to argue with him, but you're already starting to see signs that that momentum is moving. He should also probably mention they'll be the most profitable team in the league.
Some important pre-game links: