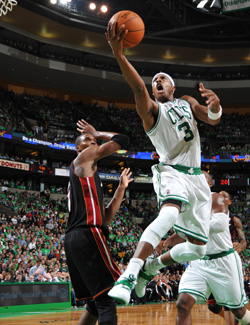 Celtics dominating Heat at the half.
Posted by Matt Moore

There are ways the first half could have gone worse for the Miami Heat. A scaffold falling on
LeBron James
. The earth opening beneath their feet and hell swallowing them whole. A Carrot Top appearance. That's pretty much it. The quick hits.
Miami is shooting 27% from the field. They have a 63.8 efficiency mark (should be at or around 100 for average). The Miami Triad are 7 of 27 and they are down by 17 points at the half to the defending Eastern Conference champions.
Boston is constantly shutting off lanes for the Heat, and the Heat, in turn, are settling. All jumpers, all the time, that's their approach. And that's just what the Celtics want.
The Celtics are playing their game. Rondo is wheeling and dealing,
Kevin Garnett
got a nice move on Haslem in the post.
Ray Allen
's jumper is still brilliant. And the Celtics are all over the Heat. The Heat have no pick and roll action, no movement. The Celtics look sharp, look active, and look primed for the kill.
Glen Davis
, the Drunken Seal, is absolutely killing it off the bench with 4 points, 3 rebounds, and a block off the bench. Shaq got way too many possessions early and wasted too many of them, but does have 6 ponits and 6 boards, and the Celtics don't need much more from him.
The Celtics don't need much at all, actually.

Follow our RunBlog of the game tonight here . Follow us on Twitter at @cbssportsnba .