Pop-star holds Jackson championship ring, carries on grand tradition of worthy champions.Posted by Matt Moore
A few names. Karl Malone. John Stockton.
Antonio McDyess
.
Steve Nash
.
Dirk Nowitzki
. These are players who have played the game at a ridiculously high level, given themselves in pursuit of a championship. They have never held a championship ring. But you know who has?
This guy.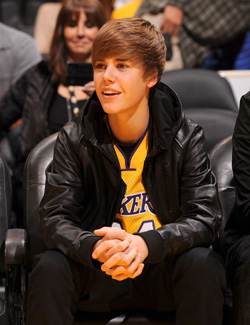 In an interview before the start of the 2nd quarter on TNT with daughter of
Lakers
owner Jerry Buss Jeanie Buss, the well-known personality, Lakers official and girlfriend to Phil Jackson related the story of how as she was carrying Phil's 2009-2010 championship ring off the floor after their ring ceremony, he asked to hold it. That's right. Justin Bieber has held Phil Jackson's championship ring. This is the world you live in.
Hey, it's just jewelry.