We break down how the Heat's spacing failed and how the Celtics' defense made LeBron James settle, frame by frame.
Posted by Matt Moore
It was supposed to be different, right from the start. Even with the newness, it wasn't supposed to look or feel like last year. But with his team down to a superior defensive team on the road, and struggling offensively,
it was just as it's always been
. LeBron James had to take over, had to run point, had to do everything, leading to a defensive adjustment to shut him down and another struggling result. Part of the reason? Too often poor spacing on the part of the Heat, a hallmark for his Cleveland teams on offense, lead to James taking ridiculous contested shots.
Like, oh, say this one.
ENTER THE DRAGON. WITH HIS HEAD DOWN.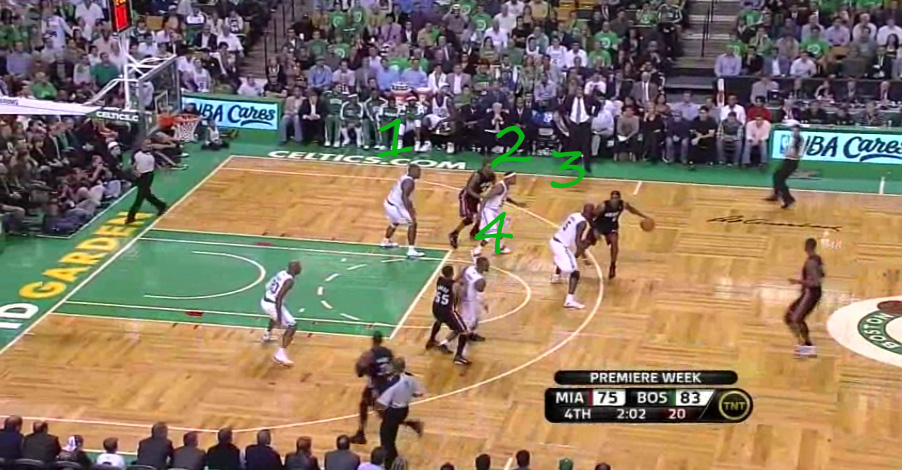 James dribbles up court and this is what he meets. Four defenders all out to meet him. They're not concerned with his screen man, they're not concerned with his shooters, they'e just eyeing James. Any attempt to reset this offense and stretch things out might improve spacing, but then again, the Celtics have been killing the Heat with their abilty to cover the entire floor all night. James elects to try and make something happen.
I THINK THEY ARE ON TO YOUR CLEVER RUSE.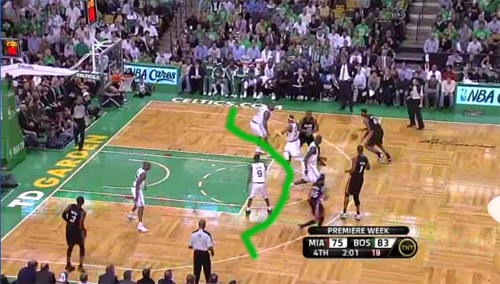 As James come off the screen, you'll notice there are four Heat players within ten feet of each other, all at the top of the key. Pierce spins around his screen man, abandoning him to stay in front of James on the drive. James rolls high but doesn't attack the wing, instead, pausing at the top. As you see here, there is now a complete green wall between him and the basket and the lone shooter in the corner, Wade, is meaningless, and his defender,
Ray Allen
, knows it, leaving him relatively open. The ball's not coming to him.
SURE, THIS IS A GOOD IDEA.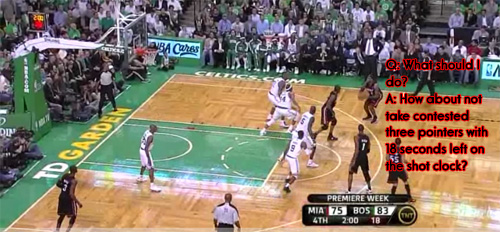 James' roll man just stops, not rolling baseline to where you'll notice, THERE IS NO ONE, and just stands there. Three Celtics defenders are waiting on him and if he tries to spot up, they'll be right there to contest. James elects to rise and fire. But hey, it's an eight point game and he's the best player in basketball. Surely this ends well.
OH.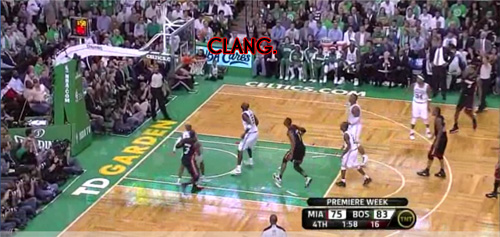 Well, then, at least you didn't leave 16 seconds on the clock you could have used to get a better shot in a three-possession game and you had rebounders. Or, you didn't. Bosh fails to grab the loose ball, and it goes out on him, Celtics get the ball up 8 with 1:58 to go.
Rough.
Don't get me wrong, there were several insane-o moves from James all night. (See
1:58 in this clip for reference
.) But the same problems exist and when you don't have spacing and you don't have guys that will knock down shots, you're in trouble. And players like
Eddie House
weren't knocking down anything down anywhere. Here's House's
shot chart from our CBSSports.com Game Tracker
: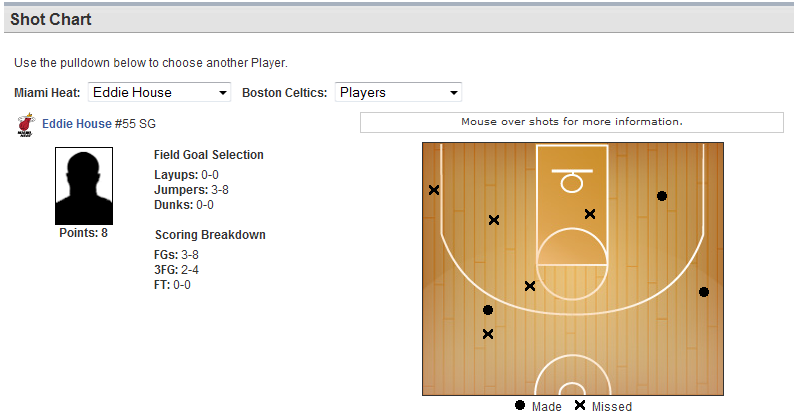 When that's your help? You're not in good shape. But half the time, they weren't even getting to that point, as constantly the Celtics turned the Heat into a one-man show. And while James is simply good enough to make you pay some of the time,
it's not a sustainable strategy
. And that's what you have to have against the Celtics, that's what you have to have in the playoffs. A strategy and scheme that will fail a lower percentage of the time on average than it will succeed. There's no
Magic
formula of talent that will overcome the percentages the Celtics make you play with bad shots, contested, in bad situations.
This was because the Heat haven't played together. It's because they need to learn one another. It's because Wade was rusty as all get out and the team was nervous. But it was also because the Heat played right into the Celtics' hands. And that's why they walked away losers on their hyped debut.

For more on the game, check out Ken Berger's discussion of how far the Heat are from the glitter and lights of their formation, live from Boston.