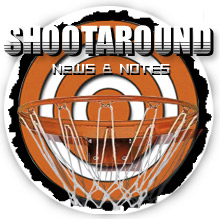 Boston's celebrating knocking down the ringer, the Lakers are celebrating being champs with their faces on rings, and ... Bieber.
Posted by Matt Moore
"This was the most hyped and anticipated opening-night game in the league's 65-year history. Everyone with an interest in the sport of professional basketball wanted to see the mighty Miami Heat, the team with the latest Big Three, the team that was going to re-glamorize the NBA, and never mind the fact we have a two-time defending champion located in the glamour capital of the US of A.

But if the nation, the world, the uni verse, the galaxy, whatever, tuned in to see the mighty Miami Heat, they were re-introduced to the reality of the Boston Celtics , who have won a championship and have had two legitimate shots at others in the past three years, and who certainly look to be new and improved this season. The mighty Miami Heat could have been given a much easier opening-night foe than the Celtics' squad that handed them an 88-80 loss to ensure they will not go 82-0."