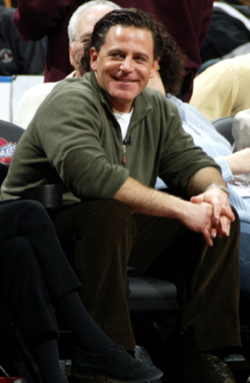 Posted by Royce Young
Post-Decision, Cleveland
Cavaliers
owner Dan Gilbert has been pretty quiet sans one Comic Sans outburst. But since Gilbert ranted on LeBron's choice to go to Miami, we haven't heard much of anything from him.
The Cleveland Plain-Dealer did a Q&A with Gilbert
and asked him if he had any regrets, about, you know.
My letter was to the fans and supporters of Cleveland. People get a little confused because they think it was a general statement to the world or even to LeBron or to whoever. It really was to the fans and supporters of Cleveland, and I wanted to make sure they knew where I stood and where the franchise stood and how we felt, which apparently was pretty similar to the way they were feeling. No, we don't have any regrets. We're looking forward to the future and we're focused on the future and all that other stuff, but I don't really think about it in that way.

No regrets Gilbert says. And he tries to make the point the letter was just to fans and supports of Cleveland. But the reality is,
everybody
read it. I can write a love letter dedicated to my dog only intended for my dog to see, but if I post it on the Internet, everybody can see it. And everybody can see that I might be a little crazy.
Gilbert's letter definitely won him some points at the time with his Cleveland fanbase. They were upset, he was upset and his letter expressed everyone's feelings. And it came from the big leader which I'm sure fired up Cavs supporters. But in the long run, it might not have been a great idea. Prior to the letter, probably seven out of 10 NBA fans wouldn't have known who Gilbert was. Now everyone does, down to people that don't even care about the league. And their perception of Gilbert and the Cavs isn't a great one.
Gilbert may have accomplished what he wanted to with the letter and good for him not living with regrets, but if he had it to do over, at least maybe he would've picked a different font.