Portland Trail Blazers rookie point guard turned some heads during his NBA debut against the Phoenix Suns. Here's everything you need to know about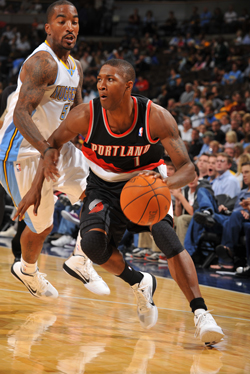 him boiled down in one place.
Posted by Ben Golliver.
The Portland Trail Blazers have one of the most bizarre media coverage situations in the NBA. In Portland, they're under a microscope, often receiving the entire sports attention of local television, radio, internet, daily newspapers and alt-weeklies, enjoying perhaps the most obsessive coverage of any small-market team in the NBA. Nationally, thanks to their late-night start times and slow-down pace, plus zero televised games this preseason, the team has existed in a black hole. As such, even
hoops die-hards like J.E. Skeets were left to joke
that they had no idea who Blazers rookie point guard
Armon Johnson
was after his impressive NBA debut last night, when he tallied 6 points, 2 rebounds and 3 assists in 9 minutes of play and played his patented brand of chest-to-chest pressure defense. Given that
TheRookieWall.com named Johnson "rookie of the night"
on opening night, I figured it was a good time to get you caught up on the man they call "A.J." Here are 10 essential Armon Johnson facts that you can use to impress women at the bar.
His first name is difficult to pronounce properly and he's a little sensitive about it, going so far as to explain the proper pronunciation to a press conference room full of reporters when he was announced to the media following the 2010 draft. There's a Jamaican-esque emphasis on the "Mon" after a soft r. It's pronounced "ar-MAHN," not "AR-mun."
Johnson originally hails from Chicago but was raised in Nevada, and he has known fellow Blazer rookie Luke Babbitt since elementary school. He graduated from Reno's Hug High School (seriously) and his affectionate off-the-court personality makes this detail feel like a major part of his persona.
Johnson was part of the most interesting pre-draft workout scene in Portland over the last three years. After his workout, Johnson was the only player to stick around afterwards to work on his jump shot with the team's shooting coach and hobnob with the team's scouts. Less than two hours after his workout finally ended, the Blazers sent millions of dollars to the Golden State Warriors to buy the right to switch second-round draft picks. The Blazers used that new pick, No. 34 overall, to draft Johnson.
Blazers scouts simultaneously adore Johnson and work aggressively to manage expectations for him. Perhaps this is a function of the point guard hype carousel that has gone on in recent years in Portland (a list of casualties: Sebastian Telfair, Jarrett Jack, Sergio Rodriguez, Jerryd Bayless). This summer, they saw his ceiling as an Eric Snow type of leader at the point guard position and, despite a strong preseason, they continue to hold to that as Johnson's ceiling.
The strengths of Johnson's game are his tenacity on defense, his overall quickness, his passing ability and his good size and strength.
The biggest weakness of Johnson's game is his jump shot. Denver point guard Ty Lawson set an NBA record by sagging 21 feet off of Johnson during a preseason game. Also, his aggressive defense and use of his hands will lead to a lot of perimeter foul calls this season. Lastly, while some opposing guards have yet to pick up on this, Johnson is left-handed and greatly favors his dominant hand when attacking the defense off the dribble or looking for his shot.
Why wasn't Johnson a first round pick? Two main reasons. First, his small-conference college team, Nevada, was off the map because they didn't make the NCAA tournament last year. It looked even worse because the Wolfpack had two NBA prospects in Johnson and Babbitt, and Johnson, as point guard, caught a lot of the blame for this lack of post-season success. Second, he shot just 23.9% from the college three-point line last year, leading to questions about how far that number would plummet at the NBA distance.
A Blazers assistant coach gushed that Johnson is "a left-handed Nate McMillan" after a Las Vegas Summer League game this year and Johnson's willing-to-do-anything hungriness has clearly endeared him to his new coach, who has been notoriously difficult on young point guards in the past.
Johnson figures to carve out a nice role for himself in Portland's rotation this year, as the team's second unit is stocked with shooters like Rudy Fernandez and Wesley Matthews, who can make up for Johnson's lack of range. Another factor playing in Johnson's favor is that McMillan will likely lean heavily on Matthews to close games alongside Brandon Roy in the backcourt. Using Johnson to tire the opposing team's point guard seems like a smart strategic move to make life easier on Matthews and Roy, neither of whom are true point guards.
The final question for any point guard in Portland is: "Does he have Brandon Roy's endorsement?" Even an established veteran like Andre Miller hasn't been able to escape that one. Roy liked what he saw last night. "Armon gave us 10 minutes. A really good 10 minutes. It gave us a chance to come in and finish that game. Armon did a wonderful job this preseason working every day to get better, watching a lot of film, and he showed it out there. He showed what he's been working on. That wasn't a fluke."