Posted by Matt Moore
Had the Boston
Celtics
, hated rivals of the Cleveland
Cavaliers
for the past three years, not eliminated the Cavaliers unceremoniously, there's a
chance
, again, a
chance
that
LeBron James
would not have left Cleveland. The Cavs were a fine team last year, and it's not impossible to see them getting past Orlando in the Conference Finals, nor L.A. who they swept in the regular season. It's not beyond the realm of possibility. It's just as likely that James would have left regardless, that he'd decided months ago, that it was long ago decided. It's also possible he could have won a championship with the Cavs and then walked away with a clean conscience.
But still, the Cavaliers fans don't love the Celtics, right? They don't respect and value the team that walked all over them, bullied them, right?
Well, okay, maybe a little. As Dustin Hoffman mumbled in
Dick Tracy
, the enemy of my enemy is my friend. From
Cleveland blog Waiting For Next Year
: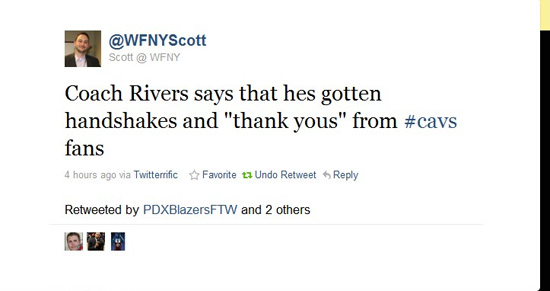 OK, then.
Cleveland? Can we talk? As friends do? Great. See, the thing is, Doc Rivers is a really nice man and an honorable dude. And it's almost impossible to really dislike him. But come on. I get that you're angry with LeBron, but the Celtics should still be "the
other
bad guys" to Cleveland. Take all the satisfaction in the world that the Celtics took LeBron and the
Heat
down a peg. But Doc Rivers isn't the good guy here. In your situation with LeBron? There are no good guys except you, the loyal fans.