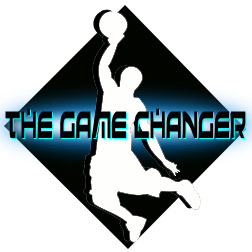 Blake Griffin impresses in his debut, Russell Westbrook gets way up, Thabo Sefalosha talks block and "The Most Interesting Man in the World" makes a cameo in Los Angeles.
Posted by Ben Golliver.
Each game is made up of elements which help formulate the outcome. Monday through Friday, we'll bring you the elements from the night before's games in our own specialized version of the game recaps. It's not everything that happened, but it's an insight into what lead to the results you'll see in the box scores. This is the Game Changer.
THE BIG ONE: BLAKE GRIFFIN MASHES IN HIS NBA DEBUT
Los Angeles
Clippers
forward Blake Griffin was the Talk of Twitter Wednesday night, charging out of the gate with astonishing energy in the first quarter of his NBA debut, dropping jaws and immediately earning rave reviews from commentators and fans alike. First things first: if you haven't seen the video of his right-handed alley-oop catch followed by his left-handed putback slam, both of which took place in the game's opening five minutes, then
go here right now.
Griffin's energy and fearlessness in his return from a season-ending injury last year stood out most prominently, but his all-around game shouldn't be overlooked. His stat line speaks to his game-changing ability - 20 points, 14 rebounds, four assists, and a steal - and the only downside was that his Clipper teammates and coaching staff apparently forgot he was on the team down the stretch. While he's not yet a finished product, Griffin is by no means raw. He did almost all of his work around the basket tonight, finishing 6-10 on layups and dunks, while shooting 2-4 from outside the immediate basket area. There's a pro and a con to those numbers. The upside? He's attacking the basket relentlessly, both off the dribble and while crashing the offensive boards (he had nine offensive rebounds, and it felt like 29). The downside? Defenses will adjust quickly, daring him to shoot the mid-range jumper, a shot that is in his toolbox but that he didn't look particularly eager to shoot tonight. Forget the nit-picking, the kid is special, and he set a high standard for his main competition for Rookie of the Year - Washington
Wizards
point guard
John Wall
- to match tomorrow night, when he makes his NBA regular season debut. Keep reading for a frame-by-frame look of one of Griffin's prettiest offensive moves, a stunning 360 degree spin move that left the Portland defense flat-footed.
GO-GO-GADGET LINE OF THE NIGHT:
Russell Westbrook:
28 points, 10 rebounds, 6 assists, 2 steal, 1 block, 8-15 shooting Two of Westbrook's 28 points came in
spectacular fashion
: a must-see coast-to-coast drive and dunk. Honorable mentions go to...
Joakim Noah:
18 points, 19 rebounds, 2 assists, 2 blocks, 2 steals, 7-13 shooting and...
Monta Ellis:
46 points, 3 rebounds, 2 assists, 2 steals, 18-24 shooting
DON'T MISS:
Ken Berger was on hand for the Miami
Heat
's
first win of the 2010-2011 season
in Philadelphia.
He wonders
when
LeBron James
and
Dwyane Wade
will start clicking?
FRAME-BY-FRAME SPIN MOVE ANALYSIS:
OK, back to Blake Griffin. Below you'll see a frame-by-frame look at a second-quarter spin move Griffin executed against Portland's
Dante Cunningham
. Let me set the scene a little bit.
Frame 1:
Griffin received the ball at the elbow with his Clipper teammates standing around in semi-hopeless fashion. With all five Blazer defenders eying him, Griffin slowly took a dribble to his left toward the paint, lulling Cunningham to sleep a little bit.
Frame 2:
Cunningham, an undersized power forward with good core strength and lateral quickness, trusts his defensive abilities on the perimeter and attempts to body Griffin to force a pass or tough turnaround shot.
Rudy Fernandez
dives down to make life for Griffin a touch more difficult but he doesn't commit fully, and Griffin is able to continue operating with relative calm.
Frame 3:
Griffin absorbs the body contact from Cunningham and explodes off of it, rotating nearly 360 degrees towards his strong hand with a reverse pivot and taking a monster gather step towards the basket in the process. The result is as explosive as it looks in the freeze frame: Griffin was in one place and then instantly in another, while Cunningham barely has time to react. Portland's help defenders are similarly stunned, as
Brandon Roy
stays home on the corner shooter and new Blazers big man, the aging Fabricio Oberto, has no chance to come over from the weak side to help.
Frame 4:
While Cunningham makes a game effort to recover and contest the shot, Griffin has created a clean look at the rim at close range, and he converts on the move. His quickness into his jump ensures no one will be able to block the shot. As the clock shows, the entire move, including the original dribble, took place in just two seconds.

WHIMSY:
"The Most Interesting Man in the World" of Dos Equis fame took in the action between the Portland
Trail Blazers
and the Los Angeles Clippers in Los Angeles on Wednesday night. Seated in front of him appears to be a member of Napoleon Dynamite's extended family.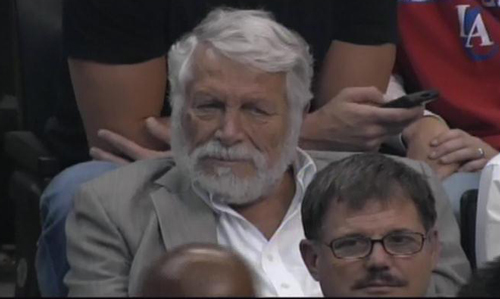 Video Clip Mania:
Oklahoma City guard Thabo Sefalosha talks about how he sent back a
Luol Deng
shot attempt. Via Royce Young.
HERO OF THE DAY:
Cleveland needed a hero to ice their huge win. Anthony Parker, with an assist from the clock crew, stepped up and became that hero.


CONFETTI AT THE BUZZER
By Matt Moore
Russell Westbrook was simply devastating for the Thunder last night, slashing all the way through. He was lethal off in-bounds, off the rebound, and especially in transition. Derrick Rose matched him in points and assists. It was a classic point guard battle, though Westbrook killed Rose in terms of efficiency.
Derrick Favors was surprisingly good in limited minutes yesterday. He was active on the glass, that you'd expect, but he got a few buckets off the pick and roll and seemed to work smoothly in it.
The Nets got their first win, a month earlier than they did last year.
The technical foul issue popped up again in several games. That rule hasn't faded since the start of the season.
Monta Ellis was ridiculous, and didn't miss a single shot inside ten feet last night.
DeMarcus Cousins was overshadowed by Griffin, but had himself 14 and 8, and oh, yeah, his team won.
Utah got blown off the map, not how the Jazz wanted to start what should be a promising season.
How about Roy Hibbert in a losing effort last night? 28 points, 9 rebounds, 3 assists, 3 blocks for the big man. The Pacers need that and against easier competition, Hibbert could be the difference in wins and losses.
Terrence Williams is looking more and more like a complete player for the Nets. He had a solid outing last night, including a nice lob to Favors.
Andrea Bargnani's offense roared back after a terrible preseason, and he had two solid defensive plays. The problem as always? All the other defensive plays.
Follow F&R on Twitter at @CBSSportsNBA and check out our RSS feed . This has been your daily edition of the Game Changer.