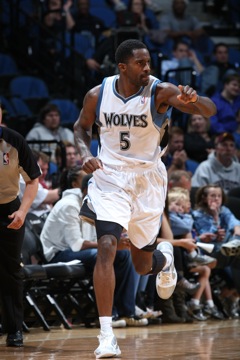 Posted by Royce Young
Save your David Kahn jokes for the end of this. I know I'll try to.
But according to Jerry Zgoda of the Star Tribune,
the
Timberwolves
have requested the league investigate whether the Blazers knowingly dealt them an injured player.
The player in question is
Martell Webster
who was acquired on draft night for the 16th overall pick from the Portland
Trail Blazers
. Webster on Monday underwent surgery to repair a disk in his back and is
expected to miss about 4-6 weeks.
Webster said the injury dates to last spring's playoffs, when he was undercut and fell hard in a game against Phoenix.
Busss-ted.
Now of course that doesn't mean the Blazers knew this would require surgery and that they knew he was hurt when they traded him. So maybe not busted. But isn't it just like the Wolves to get a player and one that happens to be like the sixth at that position on the roster, find out he's hurt and then say, "Wait, you guys knew he was hurt when you traded him to us. Not fair!" Isn't that just
so
Wolves?
Zgoda says the Wolves are likely looking for a draft pick as compensation.
I just find the whole thing pretty funny. If this were a big trade, one that involved a key player, it would make more sense. But Martell Webster? Just have Anthony Tolliver, or Michael Beasley or Wesley Johnson or Lazar Hayward or Corey Brewer or Maurice Ager fill in at small forward. Good thing you've got that depth, Minnesota!
Now as for proving the charge, it won't be easy. Webster played in six preseason games for Minnesota, averaged 26 minutes and 12 points per game. Sure the Blazers may have known he was potentially injured, but that doesn't mean they did anything wrong.